Print Friendly Version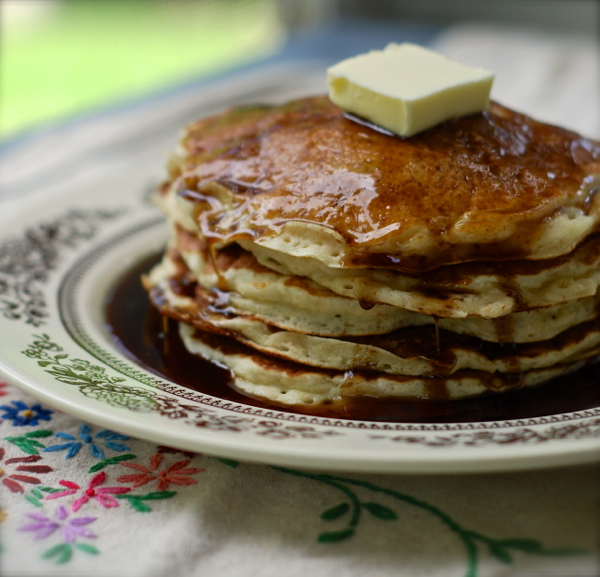 Happy Birthday to me! We're headed out here in a little while to go celebrate with my BFF, Jana! I'm so excited. I'll be back later with a "Scenes From My Week" post as promised….but I just had to drop off this pancake recipe. Thanks for all the emails and the interest. This is actually a pretty easy little recipe to put together, and it tastes absolutely AWESOME topped with the Guinness Stout Chocolate Syrup. You certainly could use pure maple, or apricot, or your favorite jam… or LEMON syrup even THIS BLACKBERRY syrup instead, if you prefer.
1 and 2/3 cup all-purpose flour
1/3 cup whole wheat flour
1/4 cup sugar
2 Tablespoons baking powder
1 teaspoon salt
2 eggs, lightly beaten
1/2 cup applesauce
1/4 cup melted butter
2 to 2 and 1/2 cups buttermilk
Combine all of the dry ingredients in a big bowl, using a wire whisk to incorporate all of the ingredients evenly. In a separate bowl, combine all of the wet ingredients, starting with just 2 cups of the buttermilk. Add the wet ingredients to the dry ingredients and mix just until the dry ingredients are all evenly moist. Add more buttermilk if the pancake batter seems to thick. Don't over-mix.
Drop by 1/3 cup measurements onto a nonstick skillet or a lightly oiled and well-seasoned cast iron skillet/griddle. When little bubbles form on top of the pancake, flip and cook an additional minute or so (until no longer raw in the middle.) Serve with your favorite breakfast meat….this was fantastic with applewood smoked bacon!
Enjoy!
~Melissa
You may enjoy these related posts: