Print Friendly Version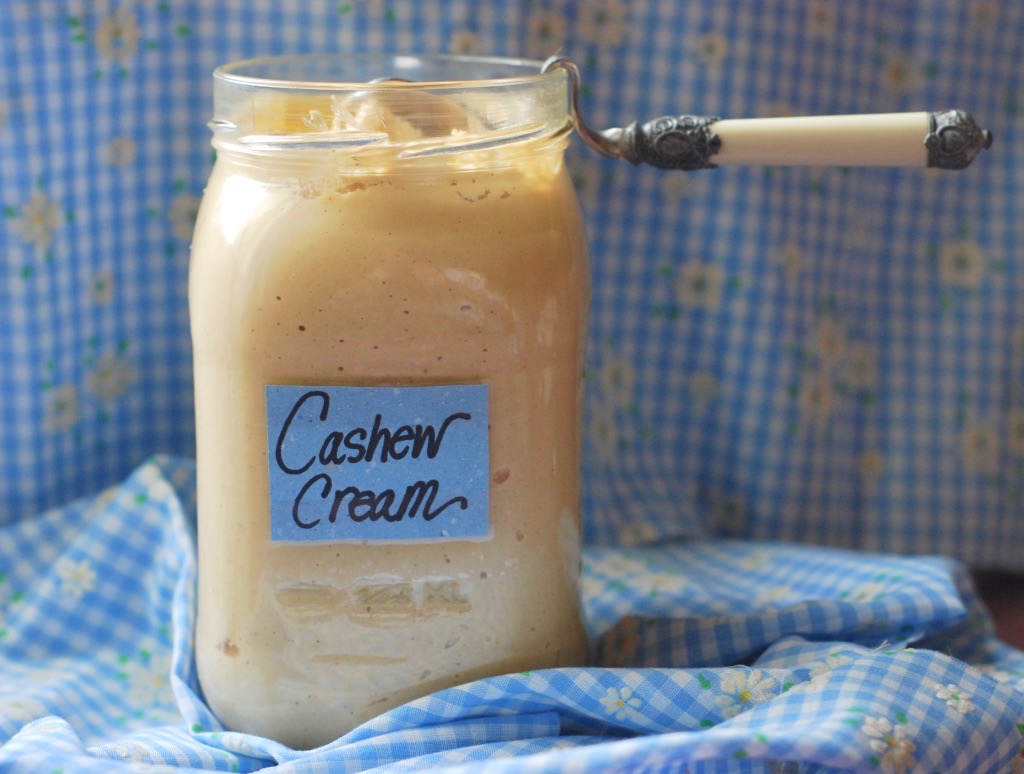 If you like creamy dressings, dessert sauces, mix-ins for stuff like macaroni and potato salad, but you don't want to consume copious amounts of oil, this is the recipe for you.
Ever since I started eating a Whole Foods Plant Based (WFPB) diet, I have made a big jar of this every week. Everyone loves it, and it's extremely versatile. You'll notice a lot of my recipes call for it. Such as: creamy wild rice and mushroom soup, vegan mushroom stroganoff, vegan alfredo sauce, vegan bagels & carrot "lox", copycat crunchwrap supremes, my lasagna… and much more.
Below I'm going to share a very basic recipe for cashew cream, but you can feel free to tweak it, subtract ingredients, or add stuff to it if you like. It stands in well for cream cheese on bagels, mixed with crumbled, firm tofu for ricotta cheese in lasagna, sour cream on potatoes and Mexican fare, and I even like dollops of it on my pizza.
If you want to dress up a dessert, just make the basic recipe (without the onion, garlic, and vinegar) and add some agave, cinnamon, and pure vanilla extract. Depending on what you want to drizzle it over, a little lemon zest or orange zest might be good too. The possibilities are endless.
for one batch of basic, savory cashew cream:
2 heaping cups raw cashew pieces (preferably unsalted)
1/2 cup water or plain, unsweetened plant milk
1 Tablespoon apple cider vinegar
1/4 cup nutritional yeast
1 teaspoon garlic powder
1 teaspoon onion powder
Soak cashews over night. In the morning, drain them.
Place all ingredients in the bowl of a blender. Mix on high for about 3 minutes, scraping down sides as needed so everything gets evenly mixed. The cashew cream is done when it's very smooth. Add a little more liquid while you're blending it, if needed.
Scrape into a large, glass canning jar with a tight fitting lid. Refrigerate until ready to use. This will keep in your refrigerator for a week.
Enjoy!
~Melissa
You may enjoy these related posts: