Print Friendly Version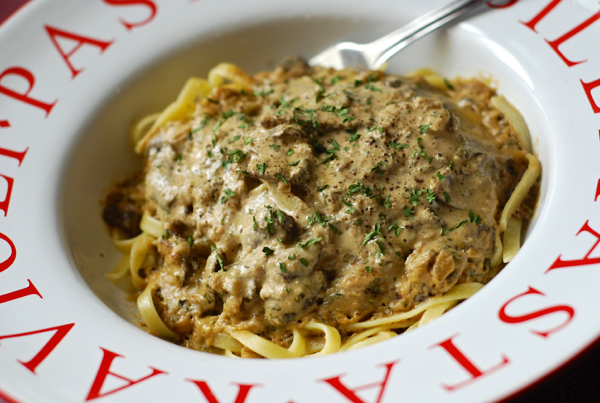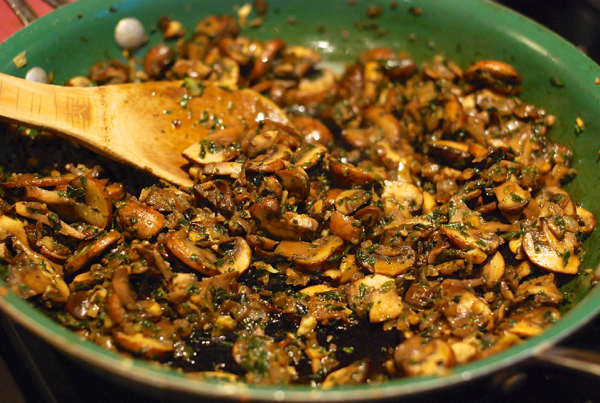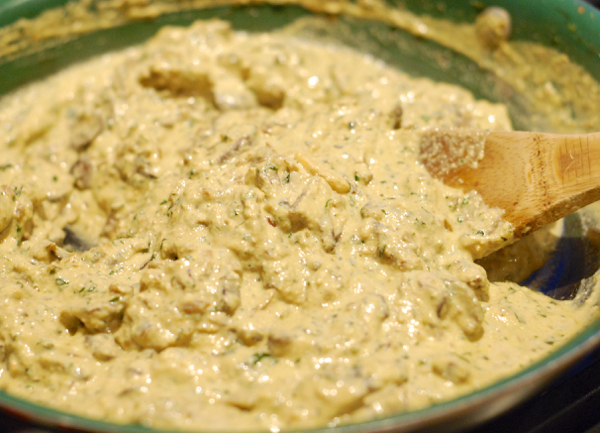 This is definitely the time of year when I need my comfort food. Hearty soups and stews, chili, lentil loaf with a pile of buttery mashed potatoes, and for SURE creamy pasta dishes! There's nothing quite like a warming, cozy, meal at the end of the day. Especially if you've been out and about in the cold doing Christmas shopping, or cross country skiing, or whatever it is that makes you put on pants and go outside when there's snow on the ground. LOL
Anyhoo… Here's one of my favorites! I hope you love it as much as we do. I adore vegan comfort food because it doesn't weigh me down with cholesterol and loads of dairy. No heavy cream in this masterpiece! Serve it with a big, crisp, green salad and garlic bread!
4 to 6 servings
1 lb. fettuccine noodles
2 cups cashews (preferably raw), soaked in hot water for 25 minutes
2 cups veggie stock, divided
1 to 2 Tablespoons fresh lemon juice
1/4 cup nutritional yeast
1 cup finely chopped yellow onion
2 Tablespoons olive oil
2 large portobello mushrooms, thinly sliced
4 cups thinly sliced baby portobello mushrooms
4 to 5 large garlic cloves, minced
1 teaspoon sea salt
freshly ground black pepper, to taste
1/2 cup dry white wine
2 to 3 Tablespoons vegan butter
3 Tablespoons finely chopped, fresh basil
3 Tablespoons dried parsley
grated vegan parmesan cheese, to taste (We love Violife)
Cook pasta until al dente, according to package directions. Once done, drain well and toss with a little olive oil. Cover to keep warm.
Drain and rinse cashews and place in bowl of a high powered blender along with 1 cup of the veggie stock, lemon juice, and nutritional yeast. Blend until very smooth, scraping down sides of blender as needed. Add a tiny bit more veggie stock if it seems too thick, 1 Tablespoon at a time.
In a large, deep, skillet set over medium heat, saute the onion in the olive oil until softened (2 to 3 minutes.) Add the mushrooms and cook for about 5 minutes. When the mushrooms start to release some of their juices, salt and pepper them and cook for 4 more minutes. Add the garlic during the last minute of cooking. Once the mushrooms have reabsorbed most of the moisture from the pan, add the white wine and vegan butter. Simmer for 7 to 8 minutes, or until the liquid in the pan has almost completely reduced. Turn heat to low. Stir in the herbs and cook for another minute or two. Stir in the cashew cream, and slowly stir in the remaining stock. Cook until completely heated through.
Place noodles in wide, single serving pasta bowls. Top with sauce, a sprinkle of vegan Parm, and a sprig of fresh basil for a garnish (optional).
Enjoy!
~Melissa
You may enjoy these related posts: