Print Friendly Version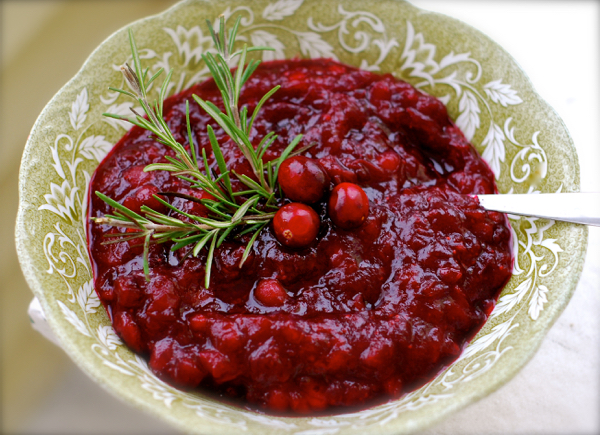 This cranberry sauce is sweet and tart and sparkles with the flavors of cinnamon, ginger, cloves and fresh orange zest! It reminds me of a cosmopolitan cocktail. In our house we call these Cosmo Cranberries. They're so delicious and wonderful paired with whatever holiday goodies you have cooking in your kitchen.
And… have you ever had a Thanksgiving Leftovers Slider? Or a Turkey Croissant Sandwich with cream cheese and cranberry sauce? if not, you are in for quite a treat. I have veganized both of these leftovers delights successfully by swapping out Gardein Turkey Cutlets for turkey in the sliders recipe, and swapping mushroom gravy for the traditional bird sauce. LOL… For the croissant sammy, use Daiya cream cheese and Tofurky cold cuts in place of the non-vegan items, and serve them on baked Pillsbury crescent rolls. You won't be sorry. These renditions are even better than the original if I do say so myself… and I do.
Now for that sumptuous sauce recipe!
16 oz fresh, organic cranberries
1 cup sugar
fresh juice and zest of one, big orange
1/2 teaspoon cinnamon
1/2 teaspoon ginger
1/8 teaspoon ground cloves
Place all in a saucepan over medium heat. Bring to a boil, stirring frequently. Once the sauce comes to a boil, reduce heat to a gentle simmer and cook for 10 to 12 minutes, or until the berries have burst, and the sauce is ruby red and thickened somewhat. Remove from heat and allow to cool completely before covering and placing in the refrigerator.
This sauce is best served ice cold from the refrigerator. It a wonderful contrast to all of the hot, savory food you'll be eating for your Thanksgiving and Christmas meals. It will thicken considerably as it chills.
Enjoy!
~ Melissa
You may enjoy these related posts: