Print Friendly Version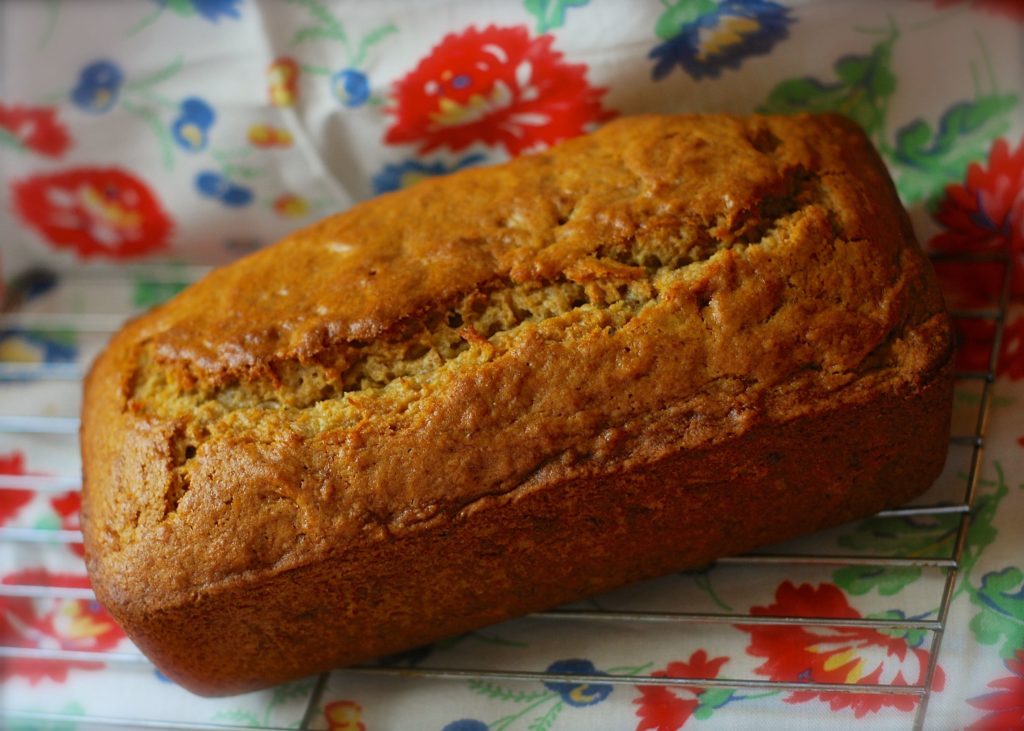 Who doesn't love the smell of banana bread baking in the oven? I have a hard time waiting for it to cool all the way before slicing off a thick piece and slathering it in vegan butter. This banana bread is wonderful as a tea time treat, or after school snack. Kids love it with peanut butter on it or cream cheese and cupcake sprinkles! I even enjoy it with soup! Yum!
~ preheat oven to 350 degrees F. ~
1/4 cup unsweetened almond milk or soy milk
1/2 teaspoon apple cider vinegar
1/2 cup vegetable oil or vegan butter, melted
1 cup brown sugar, tightly packed
3 very ripe bananas, mashed well
1 teaspoon pure vanilla extract
1 and 1/2 cups unbleached, all purpose flour
1/2 cup whole wheat flour
1 teaspoon baking powder
1/2 teaspoon baking soda
1 teaspoon salt
Butter and flour a 9 x 5 x 3 loaf pan.
In the bottom of a big mixing bowl, combine the milk and the vinegar and allow it to sit for a few minutes. Then add the oil/butter, brown sugar, mashed bananas, and vanilla. Mix well.
In another mixing bowl, combine the flours, baking powder, baking soda, and salt. Mix well, and then add the dry ingredients to the wet ingredients. Mix until all ingredients are well incorporated, but don't overmix.
Pour bread batter into prepared loaf pan. Bake for 50 minutes or until a toothpick inserted into the center of the loaf comes out with a few moist crumbs on it. Cool the bread in the pan for 10 to 15 minutes. Run a knife along the edge to loosen the loaf. Gently remove the bread from the pan and transfer it to a wire rack. Allow to cool completely before slicing and serving.
Enjoy!
~ Melissa
You may enjoy these related posts: