Print Friendly Version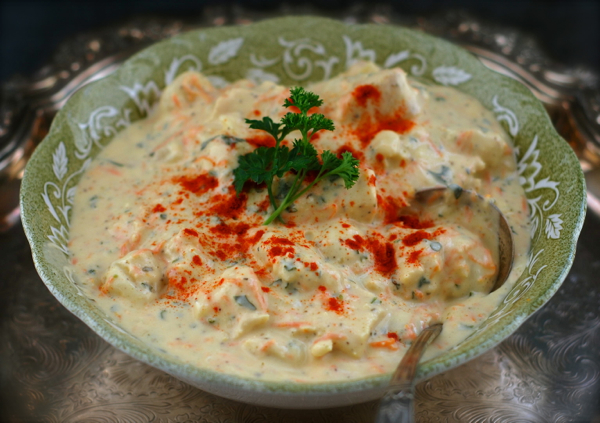 Yay! It's the beginning of a 4 day weekend for us. I'm going to start making the sides and desserts for our Thanksgiving meal tonight so we don't have as much to do tomorrow… the horseradish-oven roasted garlic mashed potatoes, the pies, and my cornbread sausage craisin pecan dressing. This year I'm recruiting Gracie to help me so she can start learning how it's done. We may have to watch Little Women while we cook. Do you cook with your children? What are your favorite food traditions?
Here's a seriously delicious soup that goes together in about a half hour once your chicken is cooked and chopped. You can certainly use turkey in place of the chicken since you'll most likely have a few tons of that lying around after tomorrow. I know we always do. Oh! Before I forget, don't throw away the turkey bones/skin/carcass/giblets from your Thanksgiving turkey… They're AWESOME for making stock. See THIS POST for more on that.
And now… to the soup! 🙂
1/2 stick (4 Tablespoons) real butter
2 Tablespoons extra virgin olive oil
1 large chopped onion (about 2 cups)
1/4 cup all-purpose flour
1 cup heavy whipping cream
3 cups buttermilk
28 oz. chicken broth or homemade stock
2 teaspoons garlic powder
2 teaspoons dry Italian seasoning
1 teaspoon white pepper
1 teaspoon celery seed
1 cup finely shredded carrots
1 cup fresh parsley, chopped
3 large chicken breasts, baked in 2 Tablespoons olive oil, salt and pepper and cubed
16 oz. ready to use gnocchi
smoked paprika
Melt butter in a big, heavy bottomed stock pot. Add olive oil. Once hot, add the onion. Saute until translucent and tender. Whisk in flour , and stirring constantly, cook for about one minute or until lightly amber and fragrant. Whisk in the cream and buttermilk. Simmer, stirring often, until thickened. Whisk in the broth and reduce a bit until thickened. Stir in garlic powder, Italian seasoning, white pepper, celery seed, carrots, parsley, cubed chicken + drippings from chicken pan, and gnocchi.
Stir until heated through and gnocchi is tender (about 4 minutes.) Serve with a little smoked paprika sprinkled over the top. Salt and pepper to taste.
Enjoy!
~Melissa
You may enjoy these related posts: