Print Friendly Version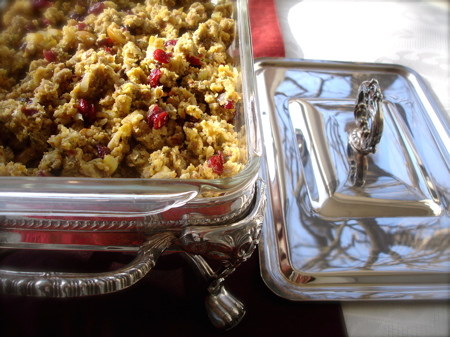 ~ Melissa Placzek's Cornbread Stuffing ~
Now I realize stuffing is a touchy subject. Kind of like potato salad. Everyone believes their stuffing is the best. I grew up on the traditional (sort of greyish) white bread stuffing mixed with butter, turkey giblets, stock, onion, celery and loads of sage. Because there are so many memories surrounding this recipe I still like it.
When I started hosting Thanksgiving in my home I decided, on a crazy whim (I really don't know what got into me), to try something new. I know, I know…Bad! But I was so curious. What is all the fuss over cornbread stuffing? I gathered several recipes, tweaked them and over the years came up with my own. The recipe you see before you is, in my opinion, the only stuffing recipe you'll ever need. It is REALLY really good.
I gave this recipe to a friend of mine, she tried it on company for a dinner party she was hosting (she used it to stuff little pumpkins as a side dish.) She told me that she threw her stuffing recipe out after making mine. She also threatened my life if I ever told her mother. LOL… Well, there you have it.
18 large cornbread muffins, left out to dry for a few days
1 lb. Jimmy Dean maple recipe sausage plus drippings
2 unpeeled apples, cored and chopped
1 cup finely chopped celery
1 large finely chopped onion
2 large cloves garlic, minced
1 shot Captain Morgan Original Spiced Rum
5 oz. bag of craisins
1 cup coarse chopped walnuts or pecans
2 teaspoons pumpkin pie spice
1 teaspoon sage
1 teaspoon nutmeg
1/2 teaspoon cayenne pepper
salt and freshly ground pepper to taste
1 cup chicken stock or broth
 1 stick real butter, melted
Crumble the corn muffins into a big mixing bowl. Fry up the sausage until completely done, along with the chopped apples, celery and onion. When sausage is cooked through, add the garlic and cook one minute more. Pour this mixture over the cornbread and mix well with a wooden spoon. Deglaze the skillet with the shot of Captain Morgan and add this to the bowl as well.  Add craisins and nuts, mixing well after each addition. Combine all of the spices and sprinkle over the stuffing, mixing well to insure the spices are distributed evenly. As you're mixing, add the chicken stock and then the butter. Mix well. Store in airtight containers in your refrigerator until ready to serve. Will keep in refrigerator for one week.
When ready to serve: Place stuffing in a large roasting pan or a 9×13 cake pan in an even layer. Bake at 350 degrees for 20 to 25 minutes, or just until heated through. Baking the stuffing for too long will dry it out.
Enjoy!
~Melissa
You may enjoy these related posts: