Print Friendly Version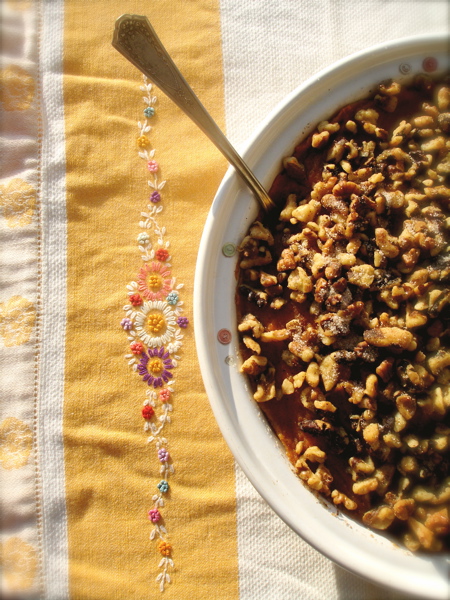 ~ sweet potato casserole ~
The perfect side dish with turkey, ham or  THIS pork tenderloin. The yummy spices will make your whole house smell heavenly as you prepare for your guests. I love this kind of aromatherapy!
5 large sweet potatoes
1/3 cup honey or maple syrup
1 large egg
1 and 1/4 teaspoons cinnamon
1/2 teaspoon nutmeg
1/2 teaspoon ginger
1/8 teaspoon cloves
2 Tablespoons melted butter
1 cup pecans or walnuts
2 Tablespoons brown or turbinado sugar
Poke holes in sweet potatoes with a fork and bake at 350 degrees F. until soft. (20-25 minutes.) Peel and place in a standing, tabletop mixture. Whip until smooth. Allow to rest for 10 minutes. Add honey, egg, spices and butter. Spread in a deep dish pie plate with a rubber spatula. Sprinkle the nuts and sugar over the top. Bake an additional 40 minutes.
Enjoy!
~Melissa
You may enjoy these related posts: