Print Friendly Version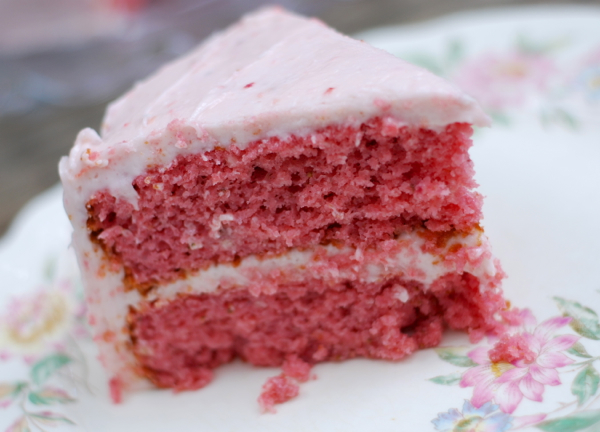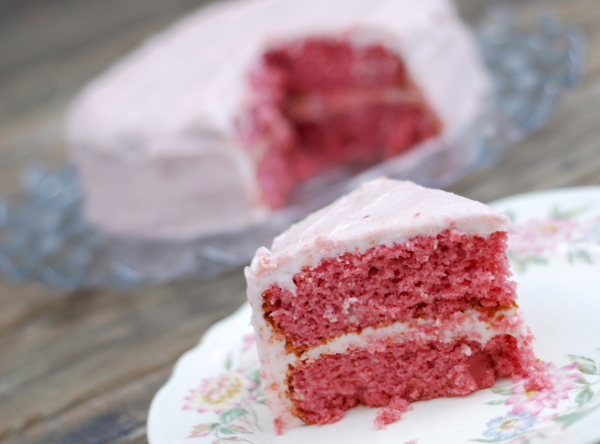 My little grandgirl Chloe requested all things strawberry for her 4th birthday party. I decided only the best would do, and went online to look for an amazing strawberry cake recipe with strawberry frosting. Paula Deen's recipe is highly praised by almost everyone who's made it. And it's pretty much exactly the same no matter what website or blog you happen to be looking at. I thought, "This must be fantastic!" and got to work.
I followed that recipe TO THE LETTER.
Everything was looking good, until I got to the part where the recipe says to only allow the cakes to cool in the pans for 10 minutes prior to transferring them to wire racks to cool completely. I KNEW that wasn't long enough, but all of those blog posts couldn't be wrong. Right? WRONG.
I waited the 10 minutes, slid a knife around the edge of the cakes, and inverted the first one over a cake plate.
It came out of the pan in 3 pieces, with some still stuck to the pan. Did I swear? Yes, I did.
I waited another few minutes before trying to remove the other one, and it was a little bit better, but not much. I would highly recommend that if you make this cake you wait at least 20 minutes before trying to remove the cakes. Not until they're completely cool, but almost.
I will say that even with that mishap, and what seemed like a total catastrophe at the time, everything turned out okay. Actually, better than okay. After I pieced the cakes back together, frosted them, and allowed them to chill in the fridge for a couple hours, the finished cake cut beautifully, and tasted amazing. Seriously awesome. Sooooo moist and rich. The BEST strawberry cake I've ever eaten, and everyone else loved it too. The frosting is pure heaven.
So, if you still want to make it after all my bitching, here ya go.
Thanks a lot, Paula Deen. Fix your recipe.
Yield: serves 12 to 24 people
~ preheat oven to 350 degrees F. ~
1 (16 to 18 oz.) boxed white cake mix
1 (3 oz.) box strawberry Jell-O powdered gelatin mix
15 oz. strawberry puree + 1/4 cup for the frosting
 4 large eggs
1/2 cup vegetable oil
1/4 cup water
1/4 cup softened butter
8 oz. cream cheese, softened to room temperature
1/2 teaspoon strawberry OR vanilla extract
7 cups powdered sugar
fresh strawberries for garnish (optional)
Lightly grease 2 (9 inch) round cake pans. (Next time I would flour them too, or use Baker's Joy. This was not suggested in the original recipe.)
In the bowl of a counter top mixer, combine: the cake mix, Jell-O powder, pureed berries (minus the 1/4 cup for the frosting,) eggs, oil, and water. Beat on medium speed until smooth. Pour cake batter into prepared pans. Bake for 20 minutes, or until a toothpick inserted into the center of the cakes comes out clean.
Allow cakes to cool in pans for at least 20 minutes, or until almost cooled completely prior to removing from pans. Transfer cakes to wire racks to cool completely before frosting.
For the frosting: Mix softened butter and cream cheese in the bowl of a counter top mixer, using the whisk attachment, until light and creamy. Add the 1/4 cup strawberry puree and the flavor extract. Mix until combined. Add the powdered sugar, 1 cup at a time, beating until smooth after each addition. Use this frosting to frost the completely cooled strawberry cake. It makes a bunch of frosting. Don't be afraid to use all of it.
Keep cake covered in refrigerator until ready to serve, and refrigerate all leftovers. Garnish each serving with a fresh strawberry, if desired.
Enjoy!
~Melissa
You may enjoy these related posts: