Print Friendly Version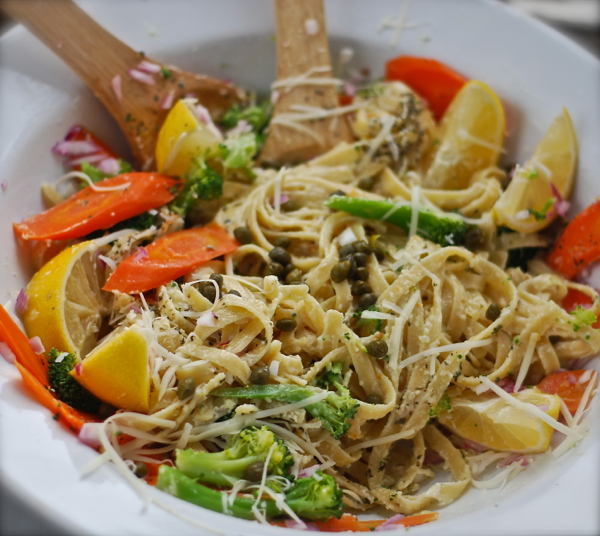 It's definitely chilly out there today! I walked up to the market to get a few fresh ingredients for our dinner, popped into the thrift store along the way and found five awesome teacups, slipped on the ice, bruised my knee (but the cups are okay!) dropped my groceries off at home, and went to my brother Terry's for a little coffee break. Glad I brought my earmuffs and mittens. Next time I'll have to remember knee pads. Hee hee. ouch!
I made this easy, delicious pasta primavera a few days ago for our lunch and it was awesome. I like true pasta primavera, because the fresh veggies really are the star of the show. No meat or seafood needed, but you could certainly add some if you like. If you don't like broccoli or carrots, substitute your favorite veggies…I have used asparagus, fresh peapods and bell peppers before too. Also wonderful.
2 big servings:
1/2 lb. linguine pasta cooked al dente, according to package directions
1 cup steamed broccoli florets
1 cup steamed carrot slices
1/4 cup butter
1/4 cup extra virgin olive oil
3 large garlic cloves, minced
1 cup freshly grated Asiago cheese or Parmigiano Reggiano cheese
3 Tablespoons finely chopped purple onion
1/4 cup capers
1/4 cup cream
1 teaspoon dry basil
1 teaspoon dry oregano
lots of lemon wedges
sea salt and freshly ground black pepper, to taste
Cook pasta according to package directions. Drain well, place in a large pasta bowl, toss with a splash of olive oil to keep noodles from sticking together. Toss with your steamed broccoli and carrots. Cover to keep warm.
Place the butter and extra virgin olive oil in a skillet and heat until melted over medium heat. Add the minced garlic and cook just until garlic turns golden. Watch closely so it doesn't burn. Add to the pasta and veggies along with the grated cheese, onion, capers, cream, basil and oregano. Mix until all ingredients are evenly incorporated. Cut a lemon into wedges and squeeze over the pasta to taste. Add salt and pepper to taste.
Enjoy!
~Melissa
You may enjoy these related posts: