Print Friendly Version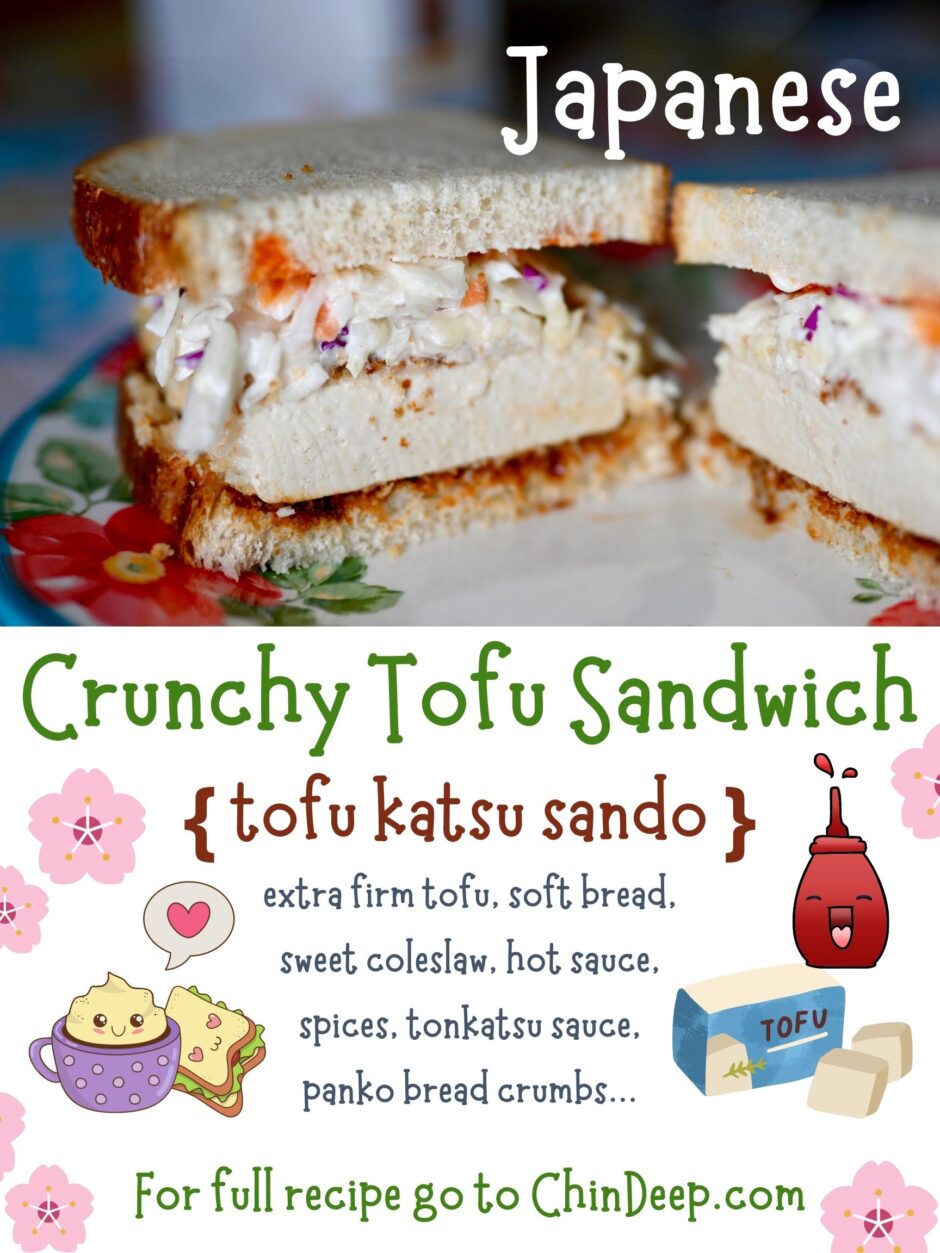 Tofu is one of those foods that I thought was so weird prior to going vegan. I even thought it was weird after I went vegan. I tried to like it, but for awhile I just didn't get it. And then I watched some Youtube videos by dozens of people who have been cooking it for years. They made it look so good! Once I learned how to cook it, tofu suddenly made sense. Organic tofu is a super food. It's ridiculously good for you, high in protein, versatile, inexpensive, and I'm going to just say it. Delicious! Now that I've been cooking with it and eating it for a few years, it's one of my favorite foods.
So if you're one of those people who claim to hate it, I challenge you to make this sandwich. It's super crunchy and the savory spices, combined with the tangy, cool, sweetness of the coleslaw, and the soft sourdough bread…mmmmm. Top it with some Japanese *tonkatsu sauce. Oh my.
And, here are some of my other favorite tofu recipes to get you started. General Tso's Crispy Tofu, Vietnamese Sticky Tofu, deluxe breakfast tofu scramble, vegan pumpkin pie, tofu bacon (on a vegan Elvis sandwich), tofu "feta" cheese (on a big Greek potato salad), tofu pad thai, chocolate peanut butter cup cream pie, in place of scrambled eggs in this amazing fried rice, in this vegan "egg" salad, or as a delicious topping for this Korean Seoul Food Pizza… It's all so, so good!
Okay. So here's how to make this easy sandwich. Once you bread the tofu you could fry it in a frying pan with a bunch of oil until golden brown if you want to. Orrr, you could save yourself the oil and the calories and air fry it like I did. It was so easy and yummy, I think I'm going to be making these until I get sick of them, if that's even possible.
*Note: You can either make the homemade tonkatsu sauce according to the recipe in this post, or you could purchase Kikkoman Tonkatsu, or Bull Dog Tonkatsu sauce which are both vegan.
for one vegan Japanese crunchy tofu sandwich (tofu katsu sando):
2 slices soft, white sourdough bread (or vegan Japanese milk bread, if you can find it)
2 (1/2 inch thick) slabs of extra firm tofu that fit on the bread
1/3 cup Vegenaise or vegan Kewpie Mayonnise, divided (more if needed)
1/2 cup Panko bread crumbs (or more as needed)
1 Tablespoon nutritional yeast
1 teaspoon garlic powder
1 teaspoon onion powder
1/4 teaspoon seasoned salt (I used Lawry's)
a little freshly ground black pepper
1 cup shredded cabbage (I like the kind with a little purple cabbage and carrots in it for color)
1 teaspoon sugar
1 teaspoon white vinegar
*Tonkatsu sauce (homemade or store bought, see below)
sriracha hot sauce (optional)
Lay bread slices on a plate. Spread some Tonkatsu sauce on one slice. Set bread aside.
Coat the tofu slices with some of the mayonnaise (not too much, just a thin layer.) Mix the panko crumbs with the nutritional yeast, garlic powder, onion powder, seasoned salt, and pepper. Dredge coated tofu in the crumbs, pressing as needed so it sticks to the tofu. Air fry tofu at 360 degrees F. for 4 minutes. Check for doneness. Air fry at this same temperature another 3 to 4 minutes, or just until golden brown and hot all the way through. No need to flip tofu.
Place the panko crusted tofu on the slice of bread with the sauce on it. Combine the coleslaw with the rest of the mayonnaise, the sugar, and the vinegar. Mix well and then top the sandwich with some of the slaw. Drizzle a little hot sauce on the slaw, if using, and then top the sandwich with the other slice of bread. Cut in half and serve.
*homemade japanese tonkatsu sauce:
1/4 cup ketchup
2 Tablespoons soy sauce
2 Tablespoons brown sugar
1 Tablespoon mirin
2 teaspoons vegan Worcestershire sauce
1 teaspoon grated, fresh ginger root
1 clove fresh, minced garlic
Mix all in a small container. Cover tightly and refrigerate until ready to use.
Enjoy!
~Melissa
You may enjoy these related posts: