Print Friendly Version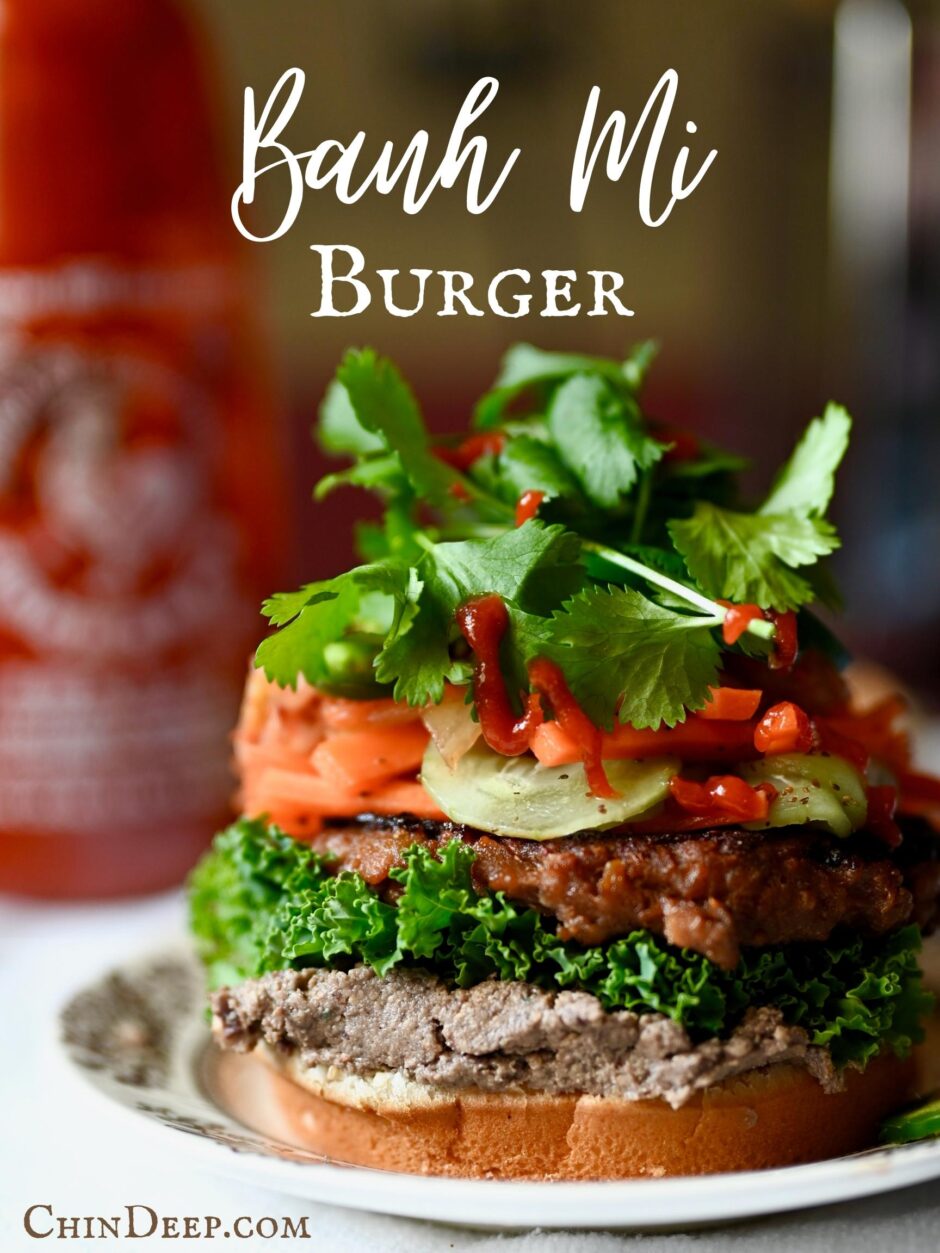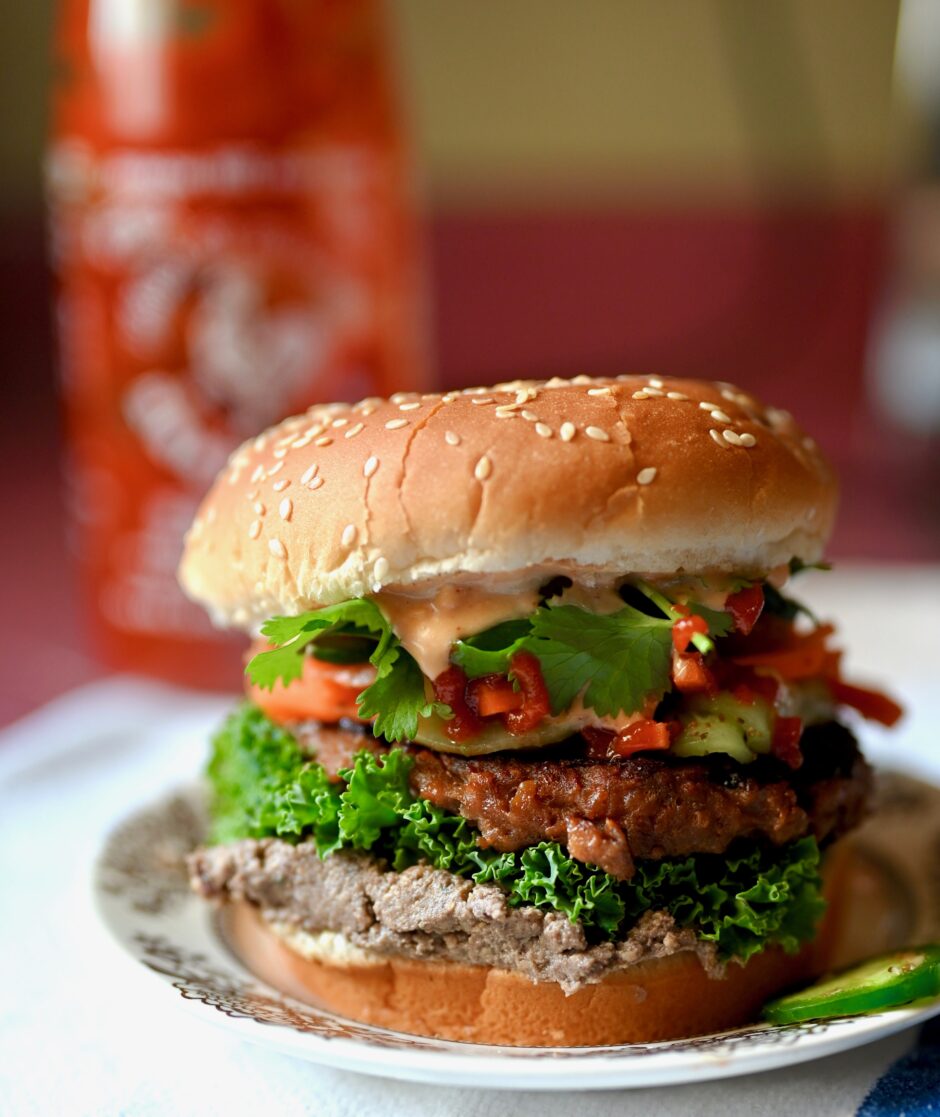 I wasn't going to start this post complaining, but I decided to make a vegan Banh Mi burger because I tried to order a makeshift banh mi sandwich at a restaurant recently and it just made me mad. Usually restaurants are happy to accommodate vegans, and seem especially eager to please when all they have to do is shift a couple menu items around. Apparently this particular restaurant hasn't joined the 21st century and doesn't have even one vegan option on their menu. Not a one. So, since they have mushrooms on some of their stuff, and a Banh Mi burger on their menu, I thought I'd ask if they could make me a mushroom Banh Mi. Does that sound like a big request? The waitress went back to ask and then said that they could do that. Great! If you can't, you can't but I was so excited when she said they could. So I waited and waited. And when it emerged from the kitchen it was a small baguette with mushrooms on it. And about 3 strands of floppy cucumber. Really? At this point I was starving, so I ate it. The waitress asked how it was and I was honest. Not great. There's no banh mi in your banh mi. No carrots, no cilantro… She didn't try to make it better and had no problem charging me the full $14 they usually charge for a burger.
So, now I'm upset.
I decided to make a Banh Mi burger the right way. With a Beyond burger and PILES of toppings. It was seriously one of the best things I've ever eaten and I've resolved to make more food out of spite in the future. 😉 It was so good I almost started crying. That good.
Okay, so this is freaking fantastic. A juicy burger served with mushroom pate, creamy Korean BBQ mayonnaise, spicy jalapeno slices and sriracha, sweet and tangy pickled cucumber and carrots, fresh kale, kimchi for an umami kick, and a handful of cilantro. If you hate cilnatro, leave it off. Serve your banh mi burger with some Asian basil or shredded lettuce. Make it the way you like it!
~ for one Banh Mi Burger ~
a sesame bun or French bread roll
a Beyond burger, grilled or fried according to package instructions
vegan mushroom pate "faux gras" (make it ahead and chill it well)
kale or lettuce
easy pickled cucumbers and carrots (recipe below)
vegan kimchi (Korean fermented cabbage)
fresh cilantro or Asian basil (or shredded lettuce…)
sriracha hot sauce
Korean BBQ mayonnaise (recipe below)
vegan "fish" sauce for dipping (optional)
Make the vegan mushroom pate and pickled veggies in advance and chill in the refrigerator until you're ready to make your burger.
Make burger according to package directions. Beyond burgers are fantastic, but especially good when grilled over charcoal.
Spread some of the mushroom pate on the bottom bun and then stack your kale, prepared burger, pickled veggies, kimchi, sriracha, and cilantro on top. Slather some of the Korean BBQ mayonnaise on the inside of the top bun and place it on top. Serve burger with some vegan "fish" sauce for dipping if you wish.
for the pickled cucumber and carrots (you will have a bunch extra):
2 medium carrots, peeled and julienned
1 medium cucumber, peeled and sliced thin
1/2 cup rice wine vinegar
1/2 cup water
1/2 cup sugar
1 Tablespoon celery seed
1 teaspoon sea salt
Place all in a bowl and weigh it down with another smaller bowl so the veggies are submerged in the liquid. Allow to rest for at least 30 minutes before serving. Keep leftovers in a canning jar with a tight fitting lid and use on more Banh Mi burgers, sandwiches, and salads.
for the Korean BBQ Mayonnaise (you will have extra):
1/3 cup vegan mayonnaise (I use Vegenaise)
1 scallion, sliced thin, including green top
1 Tablespoon sriracha
1 Tablespoon Korean BBQ sauce (I used "This Little Goat Went to Korea" sauce)
1 teaspoon vegan Worcestershire sauce
1 small clove garlic, minced
freshly ground black pepper, to taste
Mix all in a small bowl. Cover and chill until ready to use.
Enjoy!
~Melissa
You may enjoy these related posts: