Print Friendly Version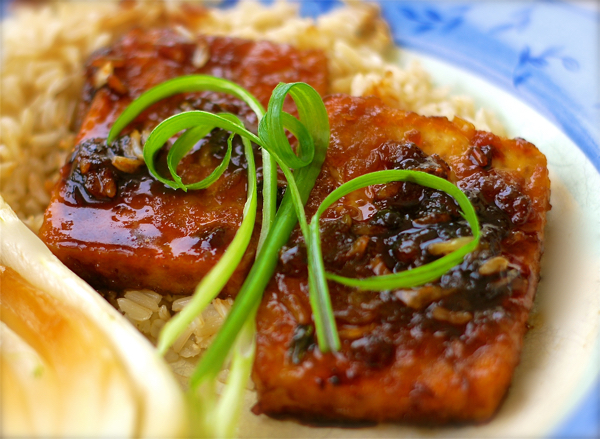 This is a quick, easy recipe for sticky, sweet, garlicky tofu! A great meal to whip up when you're in a hurry, but still want to make something delicious and fabulous!
Make sure you are working with extra firm, pressed tofu. Pat it dry, and then proceed with the recipe. If your tofu is too wet it won't cook correctly. We're going for crispy tofu with a sticky glaze!
*serving suggestion
serves 2 to 3 people
1 (14 oz.) block very firm, plain tofu, "super firm" if you can find it
2 Tablespoons grated, fresh ginger root
4 large garlic cloves, minced
6 scallions
3 Tablespoons fresh lemon or lime juice
8 Tablespoons cornstarch
vegetable oil or vegan butter, for frying
1/2 cup brown sugar, packed tightly
1/4 cup light soy sauce or tamari
2/3 cup coconut water
cooked basmati rice or jasmine rice, for serving
*stir fried veggies or grilled bok choy to serve with the tofu and rice
dark sesame oil and sriracha hot sauce for drizzling over everything
freshly ground black pepper, to taste
sesame seeds and curled scallion greens, for garnish
Press tofu for 30 minutes. Pat dry and cut into 8 slices. Pat slices dry.
While tofu is pressing, peel ginger, peel and mince garlic, finely chop 2/3 of the scallions. Thinly slice and curl remaining scallions. Set them aside for garnish. Cut lemons/limes in half.
Dredge the tofu slices in cornstarch, covering all sides well.
Heat nonstick skillet. Cover bottom with oil/vegan butter so it's well coated. Once hot, fry tofu in oil for 3 minutes or until golden brown. Gently flip and repeat with the second side so the tofu is golden on all sides and heated through. Drain on paper towels.
Remove all but 1 Tablespoon of the cooking oil from the skillet, or add 1 Tablespoon if there isn't any oil left in the pan. Return skillet to stove over medium-high heat. Add the prepared ginger, garlic, and chopped scallions. Cook 90 seconds. Sprinkle the brown sugar over. Stir until syrup forms in pan. Stir is soy sauce and coconut water. Boil, and then reduce heat a bit. Simmer for 15 to 20 minutes, or until the liquid in the pan is reduced by two thirds. Squeeze in the lemon or lime juice. Reduce heat to low. Add the fried tofu slices back to the skillet. Toss gently so all slices are well coated with the glaze.
Divide rice between plates or wide, shallow bowls. Top with the sticky tofu. Drizzle leftover sauce over. Garnish with the scallion ribbons and sesame seeds. Drizzle a little sesame oil over everything and a little hot sauce (if using.) Grind a little black pepper over all. Place some stir fried veggies or grilled bok choy next to the rice and tofu, or serve the veggies as a side.
Enjoy!
~Melissa
You may enjoy these related posts: