Print Friendly Version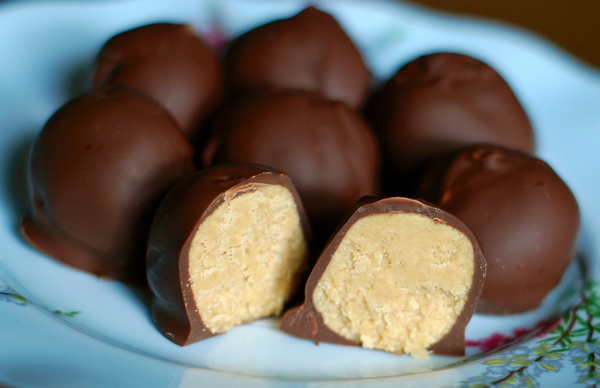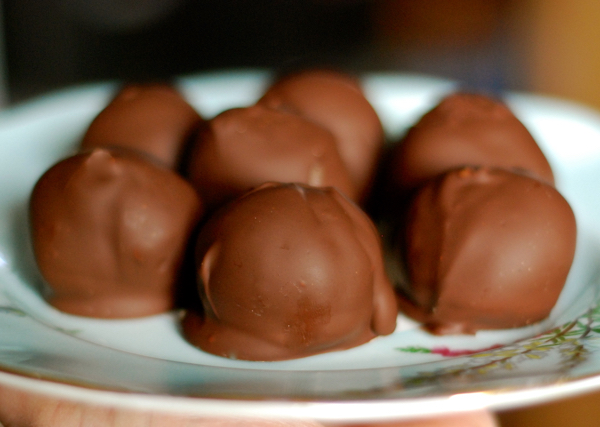 Oh myyyyyyy. Made this delicious little candies of chocolaty goodness for Christmas and everyone absolutely loved them. This recipe is a keeper! These chocolates are better than any you can buy in a store. I personally don't enjoy store bought chocolates anymore because I think they all have a faint flavor of chemicals and plastic, and very few companies make vegan ones. C'est la vie…
I made these using all vegan ingredients. You could certainly substitute dairy butter for the Earth Balance, and your favorite kind of chocolate for the Enjoy Life chips, if you wish.
PS… Although we usually eat the natural, organic peanut butter that requires stirring and refrigeration, I don't recommend it for this recipe. It's just not thick enough and will leave your truffle filling wet and gooey.
1 cup creamy peanut butter (I used Jif)
6 Tablespoons organic Earth Balance butter (or butter of choice), room temperature
1/2 teaspoon pure vanilla extract
2 cups powdered sugar
1/4 teaspoon salt
12 oz. Enjoy Life semi sweet chocolate chips
Line a large baking sheet with cooking parchment paper. Set aside.
In the bowl of a counter top mixer, mix the peanut butter and the room temperature butter. Using the whisk attachment, whip until smooth and completely combined. Then add the powdered sugar, vanilla, and salt. Mix until the ingredients all come together.
Mold 1 Tablespoon (or slightly larger) balls out of the peanut butter mixture and line them up on your prepared baking sheet. Place in freezer for 20 to 30 minutes.
Melt the chocolate chips in a microwave-safe bowl, stirring every 15 seconds until the chocolate is completely melted and smooth.
Remove peanut butter balls from freezer. Working quickly, coat them, one at a time, with the melted chocolate. (I did this using a couple toothpicks so I could easily pull them our of the chocolate without making a mess). Place them back on the lined baking sheet as you go.
Once all of the truffles are coated with chocolate, place the baking sheet in the refrigerator for at least two hours, or until chocolate is completely set/hard.
Truffles will keep refrigerated, in an air-tight container, for 7 to 10 days.
Enjoy!
~ Melissa
You may enjoy these related posts: