Print Friendly Version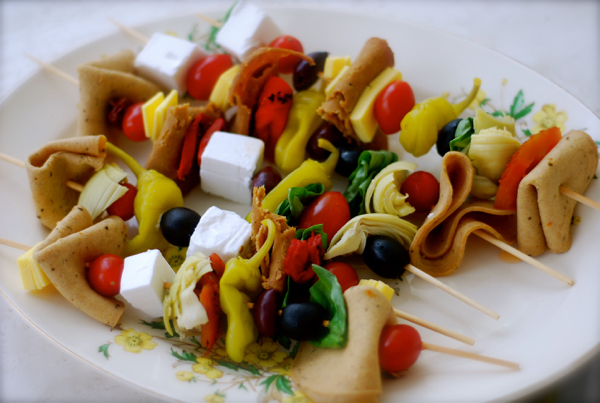 We cooked up a vegan Italian Christmas this year and it was so incredible. My vegan lasagna turned out better than ever and I can't wait to go in and tweak my recipe so you can all try this new version. The old version is great, but ohmygosh. Every non-vegan loved it which I consider high praise.
Andie brought the ingredients for these pretty little antipasto skewers! They were so good! Feel free to drizzle a little extra virgin olive oil and aged balsamic over them just before serving, if you wish. They'd be good with oven roasted garlic cloves added too. Next time we're going to roll the feta pieces in fresh, chopped oregano.
We just put the following things on skewers and then plated them.
365 Plant-Based Deli slices
grape tomatoes
fresh basil leaves
black olives and Kalamata olives
whole pepperoncini peppers
Field Roast Lentil Sage Deli Slices
marinated artichoke hearts, quartered
fire roasted red peppers cut into chunks
Violife feta cheese, cubed
Violife aged cheddar, cubed
Place the antipasto skewers on pretty platters, and serve with your favorite wine.
Enjoy!
~ Melissa
You may enjoy these related posts: