Print Friendly Version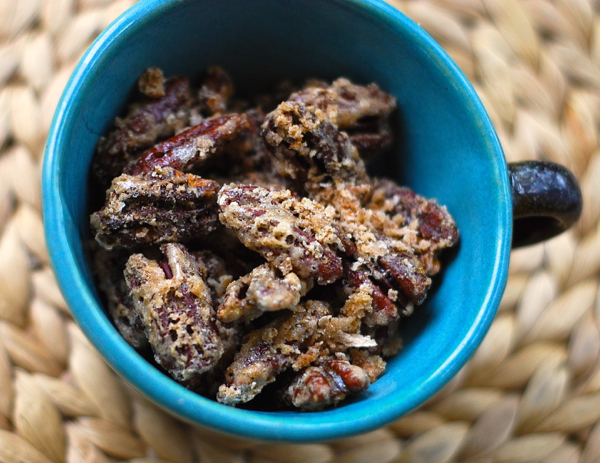 Candied pecans make a wonderful addition to salads and desserts. They also make a wonderful snack! I like to make up big batches around the holidays for hostess gifts and as an addition to Christmas gift baskets. They're easy to prepare and so delicious!
1/3 cup sugar
1/2 teaspoon cinnamon
1/2 teaspoon salt
1 egg white
1 Tablespoon water
1/3 lb. pecan halves
Preheat oven to 250 degrees F. In a shallow bowl, combine the sugar, cinnamon and salt. In another shallow bowl, whisk the egg white and water until light and frothy. Place the pecans in the egg white mixture and toss to coat evenly. Lift the pecans out of the egg white mixture with a slotted spoon and place them in the sugar mixture. Toss to coat evenly. Place the pecans on a cookie sheet and separate them so they don't stick together while baking. Bake in the preheated oven for an hour, stirring every 15 minutes until evenly browned.
Enjoy!
~Melissa
You may enjoy these related posts: