Print Friendly Version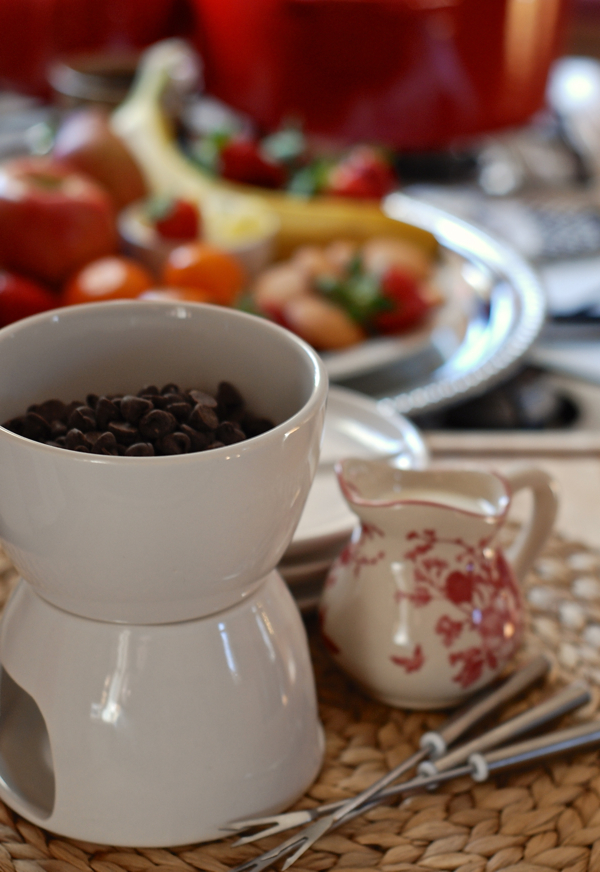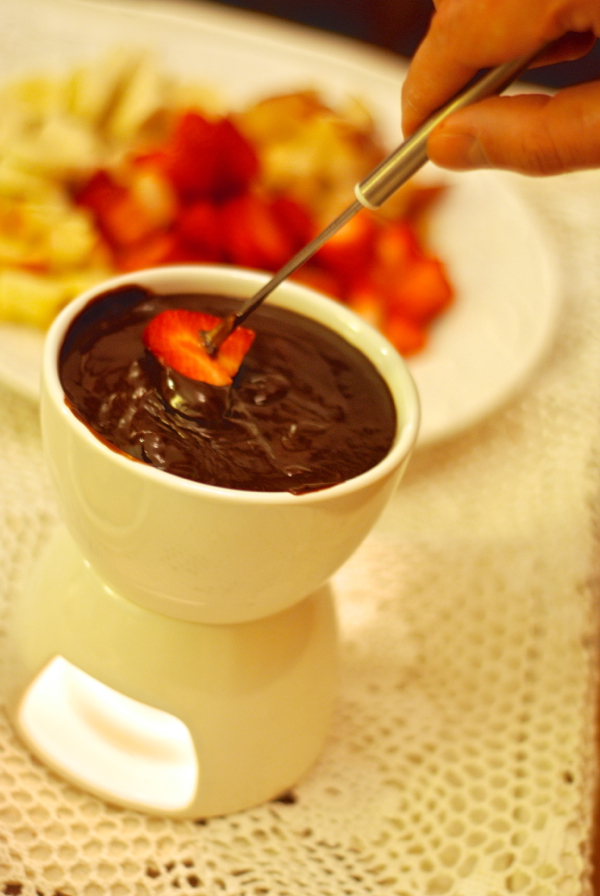 Hello Friends! Happy Sunday. We made yet another fun-filled trip to Menards to get some stuff for working on the house and painting. I do not love this part of the process. I will be happy to have everything done.
It really has been a wonderful weekend so far though. My daughter Andrea came into town on Thursday, and we got to spend all day Friday drinking tea and having a Vampire Diaries marathon. Yesterday Jeff and I hosted a birthday party for my bro…I made Chop Suey Sandwiches and my Carrot Cake Paradiso for the occasion. We enjoyed seeing my brothers and sister, kids, grand kids and nephew. I love a houseful of people!
Today, after shopping and a bit of work, we're headed outside to grill steaks! It's 34 degrees out there! Feels like a heat wave! It's funny because it's true. 🙂
Here's my so-easy-you're-not-gonna-even-believe- it recipe for Chocolate Fondue. You can make this any flavor you wish by simply adding a Tablespoon of your favorite liqueur at the very end…Grand Marnier, Chambord, Creme de Menthe, Buttershots, and Malibu are all awesome choices! I like it plain too! Experiment and discover your favorite.
12 oz. semi-sweet chocolate chips (I use Nestle Tollhouse)
1 cup heavy whipping cream
pinch of salt
Place all ingredients in a small saucepan over very low heat. Stir constantly until chocolate is completely melted and everything is thoroughly combined. It's important to stir constantly, and keep that flame low so the chocolate doesn't burn to the bottom of the pan. Once it's done, transfer to a chocolate fondue pot set over a tealight candle. Have fun dipping your favorite fruits, cookies, marshmallows and cake into the melty chocolate! Enjoy with a glass of champagne, prosecco, moscato, or…our favorite, Bonny Doon's Framboise "Book of Love" Raspberry infusion or Eau de Vie.
Enjoy!
~Melissa
You may enjoy these related posts: