Print Friendly Version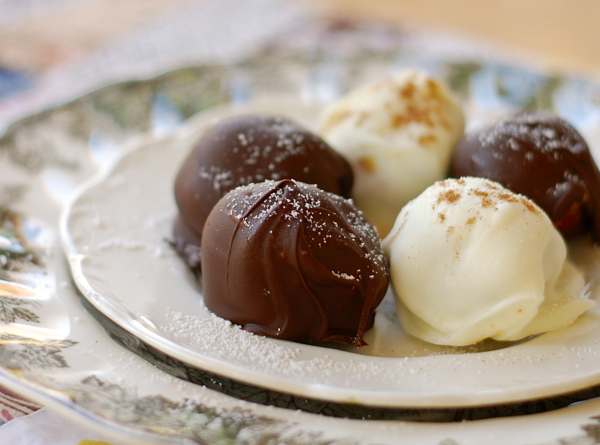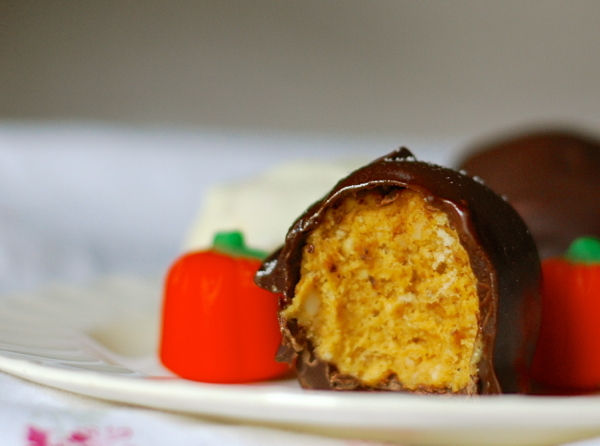 We're all about the pumpkin spice this time of year, and I'm all about coming up with new recipes to share. Here's an awesome, easy, no-bake dessert that you can make the same day as you serve it. I like to make my truffles golf ball-size so each person can have one and it's just enough to quell the dessert craving without being overwhelming. These are amazing served with pumpkin spice coffee or a glass of iced vanilla chai, and they're the perfect dessert to serve for an elegant, autumn dinner party or tea gathering.
2 and 1/2 cups white chocolate chips
1 cup semi-sweet or dark chocolate chips
12 whole graham crackers
1/2 cup pure pumpkin puree
6 oz. full fat cream cheese, softened to room temperature
1 teaspoon pure vanilla extract
1/4 cup powdered sugar
2 teaspoons pumpkin pie spice
Place all graham crackers in the bowl of a food processor and process until you have fine crumbs. Transfer crumbs to the bowl of a table top mixer, such as a Kitchen Aid. Add pumpkin puree, softened cream cheese, vanilla, powdered sugar, and pumpkin pie spice. Beat until creamy and smooth.
Melt 1/2 cup of the white chocolate chips. Add to mixture in bowl and mix until completely combined. Place this filling mixture in the refrigerator and chill for 2 hours.
Once the two hours is up, roll filling mixture into uniform size balls (it will be a bit sticky). Melt the remainder of the white chocolate, and dip the truffle balls in, coating completely. Transfer coated truffles to a parchment-lined baking sheet as you work. Once the white chocolate is gone, melt the semi-sweet chocolate and dip the remainder of the truffle balls as you did with the white. If you prefer to use all semi-sweet or all white chocolate for the coating of your truffles, you certainly can. I think both colors on a serving tray is pretty and it's nice to give your guests a choice.
Transfer the baking sheet full of truffles to your refrigerator and refrigerate until cold and set (approximately 30 to 60 minutes.) Once set you can enjoy them right away, or transfer them to an air-tight container and place them back in the refrigerator until ready to serve. These will keep in your fridge for 1 week.
Just prior to serving, dust the tops of the white chocolate truffles with pumpkin pie spice, and the tops of the dark chocolate truffles with a little powdered sugar. This little addition takes no time at all and makes the candies look so pretty!
Enjoy!
~Melissa
You may enjoy these related posts: