Print Friendly Version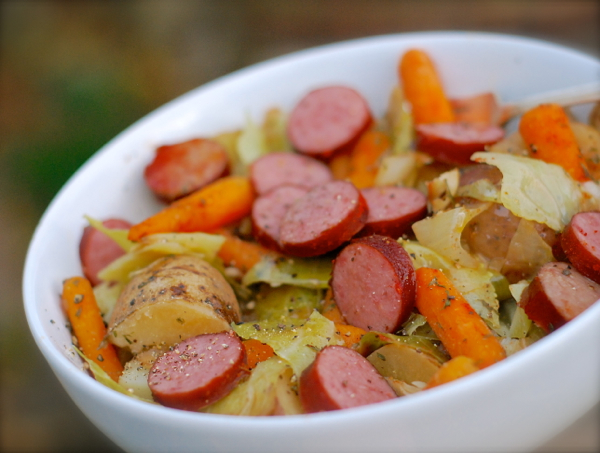 I had literally 15 minutes to whip this together before I ran out the door yesterday. Not kidding! It's that easy to put together, and I just love it with a big pat of butter melting over the top, a dash of salt and pepper, and a squeeze of fresh lemon juice. YUM!
serves 6 to 8 people
10 small red and/or russet potatoes, scrubbed, unpeeled, and quartered
1 medium head of green cabbage (not Napa) cored and coarsely chopped
16 oz. package baby carrots
1 large onion, peeled, quartered, and thick sliced
28 oz. smoked pork sausage, cut into 2-inch pieces
1/2 cup chicken or vegetable stock
garlic powder
onion powder
smoked paprika
parsley
black pepper
Grease a 7 to 8 quart slow cooker with peanut oil or vegetable oil. (Don't use olive oil or butter because it will burn.) Layer veggies in the order listed above, sprinkling each layer with a little garlic powder, onion powder, smoked paprika, parsley, and black pepper. Place the sausage pieces on top. Pour the stock over everything. Cover and cook on LOW for 6 to 8 hours, or HIGH for 3 to 4 hours. Serve with butter, lemon wedges. Salt and pepper, to taste.
Enjoy!
~Melissa
You may enjoy these related posts: