Print Friendly Version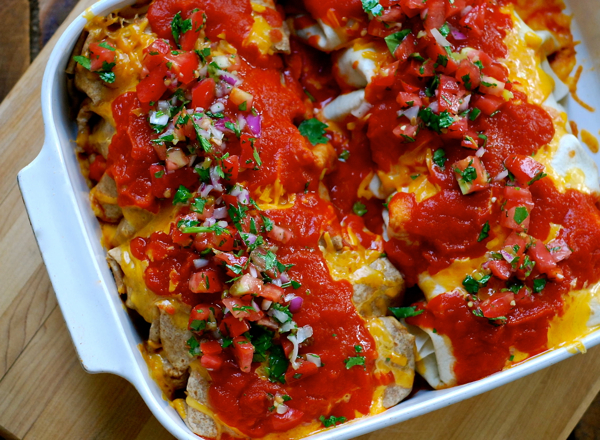 I cooked for the first time in 3 days last night. I was busy getting spoiled with fabulous restaurant meals for my birthday weekend. Lobster rolls, Rachel sandwiches, Jamaican jerk chicken… ahhhh…. I love going to our favorite places where lovely people cook food for me and bring it to our table along with a glass of fantastic wine. Where do you like to go to celebrate birthdays and special occasions?
Anyhoo, last night I wanted to make something delicious and easy. These burritos were the perfect choice! I used half flour tortillas and half whole grain tortillas. Feel free to use ground beef, bison, or chicken in place of the ground turkey in this recipe.
for 12-14 burritos:
~ serves 6 to 7 people, 2 burritos each ~
1 large onion, chopped
1 and 1/2 lb. lean ground turkey
1 Tablespoon ground cumin
2 Tablespoons chili powder
2 Tablespoons oregano
1 Tablespoon onion powder
2 teaspoons garlic powder
1 teaspoon crushed red pepper flakes
28 oz. can refried beans
12 oz. shredded sharp cheddar cheese, divided
12-14 burrito-size flour tortillas
21 oz. no salt added tomato sauce OR enchilada sauce, divided
your favorite homemade pico de gallo or salsa
sour cream or plain greek yogurt
avocado chunks or guacamole
hot sauce
lime wedges
~ preheat oven to 350 degrees F. ~
In a large skillet, cook onions until tender and translucent. Add ground meat and heat until cooked through, breaking up meat chunks with a fork as it cooks. Add seasonings and 2/3 of the tomato sauce/enchilada sauce. Stir to combine. Simmer for 5 minutes. Turn off heat and set aside.
Place refried beans in a saucepan over medium heat, stirring frequently. Once hot, add 1 and 1/2 cups of the shredded cheese. Stir until evenly combined and cheese is melted. Remove from heat and set aside.
Place the tortillas on a plate in between two paper towels. Heat for one minute in microwave. Spread approximately 1/4 cup of the bean mixture in the center of a tortilla, followed by 1/4 cup of the meat mixture. Fold in sides of tortilla and then roll up burrito. Repeat with each tortilla, lining them up in a 9 x 13 baking dish until dish is full. Cover with foil. Place in preheated oven for 15 minutes. Remove from oven, top evenly with the rest of the tomato sauce and cheese. Cover again and bake an additional 15 to 20 minutes or until heated through and cheese is melted.
To serve: Plate and top with pico, salsa, sour cream, guacamole and hot sauce. Serve with lime wedges as a garnish for squeezing over the top of burritos.
Enjoy!
~Melissa
You may enjoy these related posts: