Print Friendly Version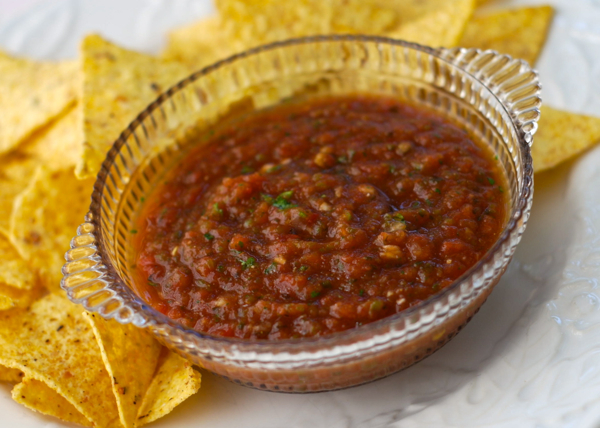 I love the fresh, warm, homemade tortilla chips served at our favorite local Mexican restaurant… and when they bring out the bowls of freshly made salsa… oh MY! One of my favorite treats. Here's a delicious recipe for restaurant-style salsa that is soooo good, and easy to make! Now you can enjoy the flavors of restaurant salsa at home!
This makes a really big batch and it's awesome for when you have a houseful of guests. If you don't think you'll be able to eat it all at once, you'll be happy to know that this salsa freezes beautifully and is a fantastic addition to your favorite tacos, nachos and chili!
1 (28 oz.) can whole tomatoes in juice
1 (15 oz.) can fire-roasted petite diced tomatoes (we use Muir Glen)
1/4 cup fire-roasted green chilies
1/4 cup chopped onion
2 large cloves garlic, minced
1 whole, fresh jalapeno pepper, chopped
1 teaspoon sugar
1/2 teaspoon sea salt
1 teaspoon ground cumin
1/2 cup cilantro, chopped
juice of one whole juicy lime
1 Tablespoon Sriracha hot sauce or Tabasco sauce (or your favorite)
Place everything in the bowl of a food processor (you may have to do this in 2 batches…) Pulse until chunky-smooth and uniform.
Chill until ready to serve.
Enjoy!
~Melissa
You may enjoy these related posts: