Print Friendly Version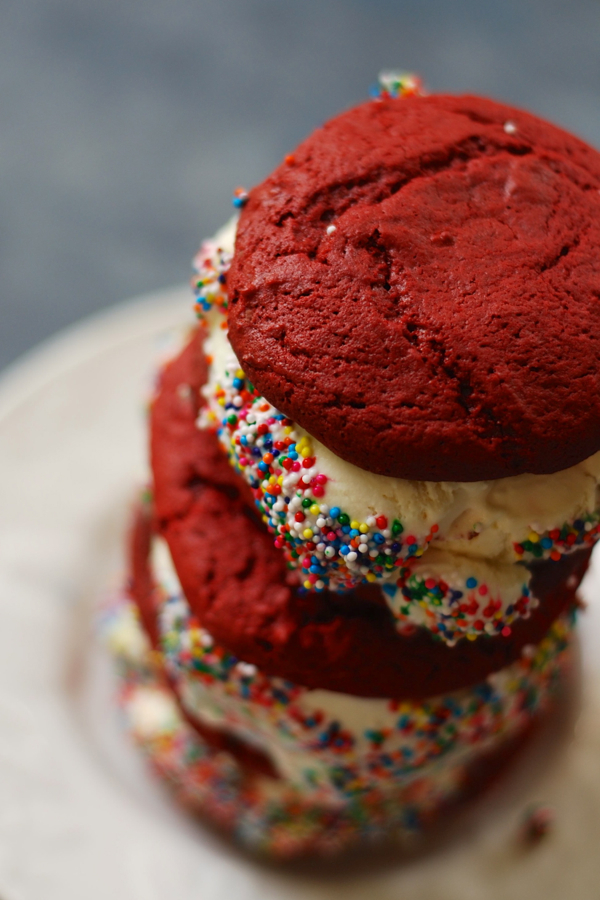 My 13 year old daughter, Gracie, has created another masterpiece! I'm encouraging her to start her own food blog after the crazy success of her first post (remember those Grilled Cheese Roll-Ups?) Shared and pinned a gazillion times, and still receiving traffic daily according to the Google stats. Shes' a natural! 😉
She used a red velvet cake mix to make the cookies. They turned out to be the perfect cookie for ice cream sammies…nice and chewy, not crunchy, and firm enough to hold up to the ice cream mooshing process. (I used the word 'moosh' in her last post too…maybe this will become a tradition. I'll try to work it into all of her guest posts. hee hee…)
for the cookies:
~ preheat oven to 350 degrees F. ~
1 box red velvet cake mix (Grace used Betty Crocker 'Super Moist')
1/2 cup unsalted butter, softened
2 eggs, beaten
2 teaspoons pure vanilla extract
1/4 teaspoon salt
Lightly grease your cookie sheets. In a large bowl, mix all ingredients on medium speed with a hand held mixer (or in the bowl of a countertop mixer/Kitchen Aid.) Mix until well combined (batter will be very thick.) Using a Tablespoon, drop dough 2 inches apart on cookie sheets. Try to get the cookie dough amounts as much the same as possible so you end up with uniform cookies for your sandwiches.
Bake 10 to 12 minutes or until just set. Allow to cool for a couple minutes on the sheets and then carefully transfer to cooling racks. Cool cookies completely.
To assemble ice cream sandwiches: Flip cooled cookies onto their tops, scoop your favorite kind of vanilla ice cream on half of the over-turned cookies. Top with the other cookies (so the tops of the cookies are on the outside.) Moosh down gently. Using an ice cream scoop, smooth the edges of the sandwiches as much as possible and then roll in sprinkles, nuts, mini chocolate chips (whatever small candies that you prefer.) Wrap ice cream sandwiches in wax paper squares, and secure with freezer tape. Place in a big freezer-safe bowl. Freeze until ready to eat.
Note~ You could try any combination cake mix cookies and ice cream flavors that you like! Some fun pairings might include:
lemon cookies with lime sherbet
chocolate chip cookies with vanilla ice cream and mini chocolate chip "sprinkles"
spice cookies with pumpkin ice cream
chocolate chocolate chip cookies with peppermint bon bon ice cream
strawberry cookies with chocolate ice cream
vanilla sugar cookies with orange sherbet
the possibilities are endless!
Enjoy!
~Gracie and Melissa
You may enjoy these related posts: