Print Friendly Version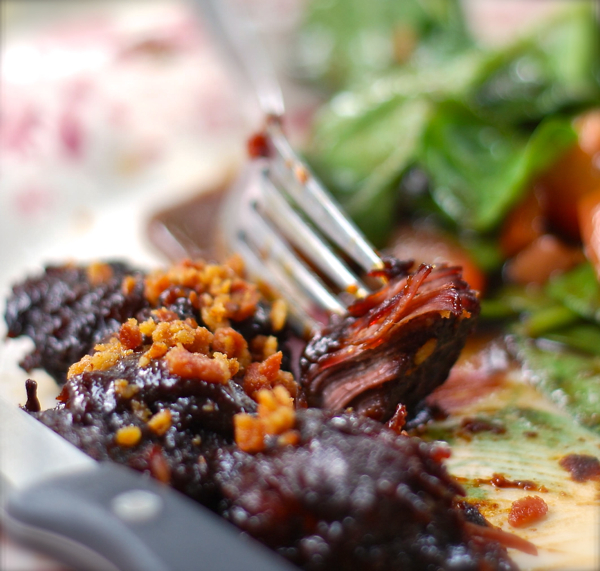 Busy, busy days in the kitchen. We've been cooking, grilling and taking photos. I meant to post this yesterday, but somehow the day got away from me.
This is a very unique, delicious barbequed beef recipe that my hubby Jeff invented. I've never heard of  bbq sauce being prepared this way before, but it's completely awesome, sort of coffee-like, rich, thick, dark, smoky, magic stuff. Definitely some of the best barbeque I've ever had.
:::soak approximately 3 cups of applewood chips in water for 2 hours:::
~ preheat oven to 300 degrees F. ~
4 to 5 lb. chuck arm beef roast
1 cup light brown sugar, packed tightly
1 and 1/2 Tablespoons paprika
3/4 Tablespoon garlic powder
1 teaspoon salt
1/4 teaspoon cayenne pepper
1 teaspoon instant coffee
Cut the roast into 2 inch wide pieces that are the thickness and width of the roast. Combine all rub ingredients. Rub all over the beef strips. Lay beef strips in the center of a large, heavy duty piece of aluminum foil. Sprinkle any remaining rub over the strips. Place another heavy duty piece of aluminum foil over the beef. Tightly wrap the meat within the aluminum foil by crimping all edges and rolling up very tightly, several times. The goal is to keep all of the juices inside the foil pack.
Place in a casserole dish, or a pan with a lip. Bake at 300 degrees F for 2 and 1/2 hours.
prepare the sauce:
1/2 lb bacon
2 large, sweet yellow onions, coarse chopped
2 cups of your favorite homemade BBQ sauce or store bought (Sweet Baby Ray's Honey BBQ Sauce is good.)
Fry bacon until crispy. Remove to a paper towel-lined plate and set aside. Fry the chopped onions in the bacon grease until caramelized and slightly blackened. (Jeff takes his time with this…about a half hour from start to finish…he starts by slowly letting the onions caramelize and cook down, and then he turns up the heat so they get darker.) Zip the onions in a food processor along with the BBQ sauce until very smooth
When the meat is done baking, remove it from foil and place it in a large bowl. Pour 1/3 to 1/2 of the sauce over the meat (just enough to coat) and toss gently until all meat is coated evenly.
Place the rest of the sauce in a jar and refrigerate until you're ready to eat.
prepare the grill:
The beef is fully cooked, but we want to impart that delicious, smoky grilled flavor to the meat. You can do that by "smoking" it on your grill.
Prepare charcoal* and let it burn down until it's pretty cool. Move it all to one side of your grill. Close the vents to about 80% so you're hardly letting any air into the grill and so the heat is VERY LOW. You don't want to cook the meat any more, you just want to smoke it. When the grill is cooled down, put the soaked, well-drained wood chips on the coals. Place the meat on the cool side of the grill (the side with no coal under it.) Cover grill and allow meat to "smoke" for about a half hour.
Plate your barbeque beef and top with the sauce "as is" or…thin it down by whisking in a little Jack Daniel's whiskey and/or tomato sauce to taste. Crumble the fried bacon and sprinkle it over the beef.
*Jeff uses 100% natural wood, lump charcoal for all of his grilling
Enjoy!
~Jeff and Melissa
You may enjoy these related posts: