Print Friendly Version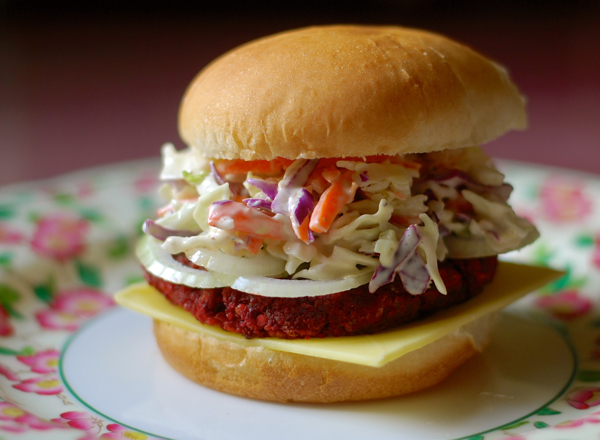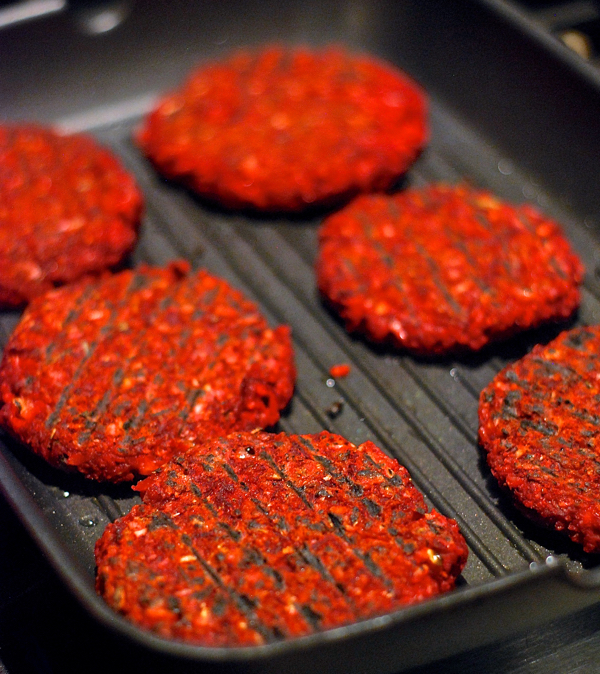 These yummy burgers were heavily inspired by a recipe I found in Isa Chandra Moscowitz's cookbook called "Isa Does It!" Such an amazing collection of delicious vegan recipes that are fun to make as well as healthy.
These are my favorite veggie burgers! No contest! Oh, and I doubled the original recipe so I could freeze half. They thaw and reheat in the microwave beautifully. This double recipe makes 12 burgers.
2 and 1/2 cups cooked, cooled brown rice
2 cups cooked brown or green lentils, drained well
2 cups shredded, fresh beets
1 cup fine, dry bread crumbs
6 Tablespoons finely chopped onion or shallot
4 large cloves garlic, minced
1/4 cup smooth almond butter
1 Tablespoon dried thyme or oregano (I used oregano)
1 teaspoon finely crushed fennel seeds
2 teaspoons prepared yellow or Dijon mustard
1 teaspoon seasoned salt (I used Lawry's)
1/2 teaspoon freshly ground black pepper
olive oil or coconut oil for pan
Put brown rice, lentils, and shredded beets in bowl of a large food processor, and pulse 10 to 15 times until mixture comes together but still has texture (not smooth.) It will look a lot like ground meat (which, if you're vegan is weird, I get it. lol)
Transfer this mixture to a large mixing bowl. Add bread crumbs, onion, garlic, almond butter, mustard, and spices. Use your hands to mix very well.
Place mixture in refrigerator for 30 minutes to chill.
Preheat a non-stick grill pan (or a large cast-iron pan) over medium high heat. The original recipe calls for a cast iron pan, but I LOVE how these burgers cook in my IKEA grill pan! And those grill lines add a little something, don't you think? Anyhoo, now form your patties into 3/4 inch disks. I just do this with my hands. Isa uses a round cookie cutter. When I tried this they got stuck, and I swore every time it happened, so I just chucked the cookie cutter and molded them myself. They look great in my opinion, but do what you like.
Pour a thin layer of oil in pan and cook patties for 12 minutes, flipping occasionally. Drizzle a little more oil as needed. You want them charred on both sides (not burned) and heated through.
Serve warm, on buns, with your favorite toppings! This time I used a slice of Chao cheese, thin slices of fresh onion, and slaw mixed with JUST Caesar Dressing. So good!
Enjoy!
~ Melissa
You may enjoy these related posts: