Print Friendly Version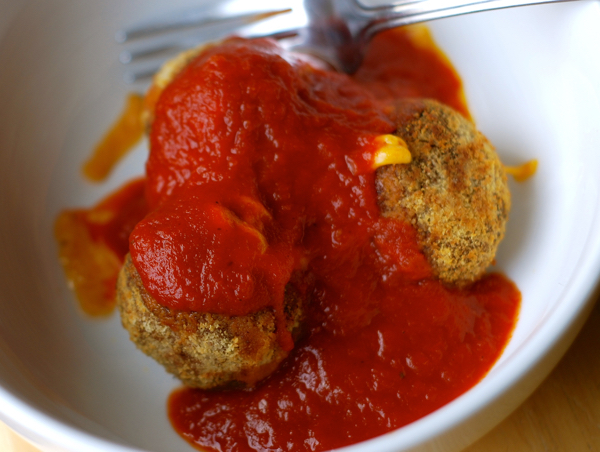 So, THESE are delicious and easy! I made up another batch today and just had to share the recipe with you. If you don't have an air fryer, never fear. Just bake until heated all the way through and golden on the outside. I make these in the air fryer without any oil, but feel free to drizzle a little over the top before cooking if that floats your kick ass, vegan boat.
Note: I say balls a lot in the following post. I dare you not to giggle.
1 (15 oz.) can chickpeas, drained
2 large cloves fresh garlic, coarsely chopped
1 cup oat flour
1 cup almond meal/flour + more for dredging
1/4 cup nutritional yeast

3/4 cup of your favorite marinara or spaghetti sauce + more for serving
Place chickpeas and garlic cloves in food processor and pulse about 4 times. You want all the chickpeas to be broken up, but not pureed. We're not making hummus.
Transfer chickpeas to a large mixing bowl and add the oat flour, almond meal, nutritional yeast, and marinara sauce. Mix well. The mixture should be moist but not too moist. You want to be able to make balls that are firm, but not dry. So add a little more marinara if needed and form into 18 to 20 balls.
Dredge in a little more almond flour and place half of the balls in an air fryer. Fry at 375 degrees F, for 10 minutes. Flip and cook an additional 8 to 10 minutes. You want the balls to be cooked through but not dry. Repeat with the other half of the balls.
If you'll be serving all of the balls at once, then heat up another jar of marinara sauce in a skillet and place all of the chickpea balls in the sauce. Heat through. Serve with vegan parm and fresh chopped basil… or use in place of meatballs on your favorite pasta dish!
Enjoy!
~ Melissa

You may enjoy these related posts: