Print Friendly Version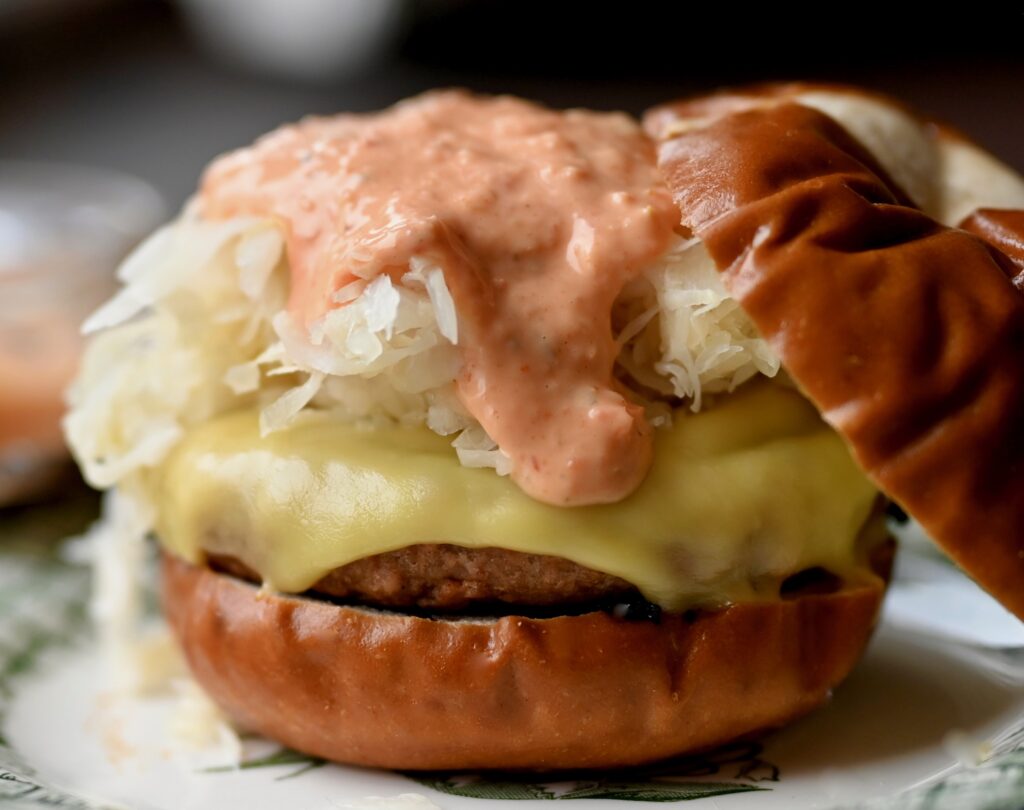 Are you ready for Saint Patrick's Day? Do you do anything special to celebrate? For years I made Reubens and Rachels, and then I went vegan and made tempeh Reubens, last year I made Rachels using Tofurkey, which was actually really good, but this year I wanted to try something a little different and decided to make Reuben burgers. I've seen them on menus in restaurants and always thought they sounded amazing.
Well, guess what? They are!
Today, in preparation for Saint Patrick's Day I did a trial run and made one for my lunch.
Originally I was going to make these using Beyond Beef patties, but I had a Gardein Ultimate Plant Based Burger in my freezer so I just threw that in a skillet with a little olive oil and fryed it up while I made thousand island dressing and drained some sauerkraut.
Make these with whatever patties you like. If you don't feel like making your own Thousand Island you can use store bought, but I don't recommend it. Homemade is SO much better and goes together in minutes when you use a food processor.
If you want a more authentic Reuben flavor, feel free to make a Reuben burger patty melt and grill up your sandwich on some pumpernickel or marble rye. I used pretzel buns because they went with my theme and they are delicious.
These would be great with homemade fries and a tall pint of frothy Guinness.
for one Reuben burger:
1 pretzel bun or two slices of your favorite rye bread
one burger patty, cooked to your liking
one slice of Swiss cheese (I love Violife) or Chao vegan cheese
sauerkraut, squeezed dry
your favorite Thousand Island dressing
Fry or grill your burger and add some cheese when it's almost done cooking so it gets all melty. Place it on a toasted or grilled, buttered bun. Top with the drained (squeezed dry) kraut and some Thousand Island dressing. Serve with more dressing for dipping, if you wish.
Looking for more Saint Patrick's Day Inspiration? Heres a post with lots of recipes and ideas!
Enjoy!
~Melissa
You may enjoy these related posts: