Print Friendly Version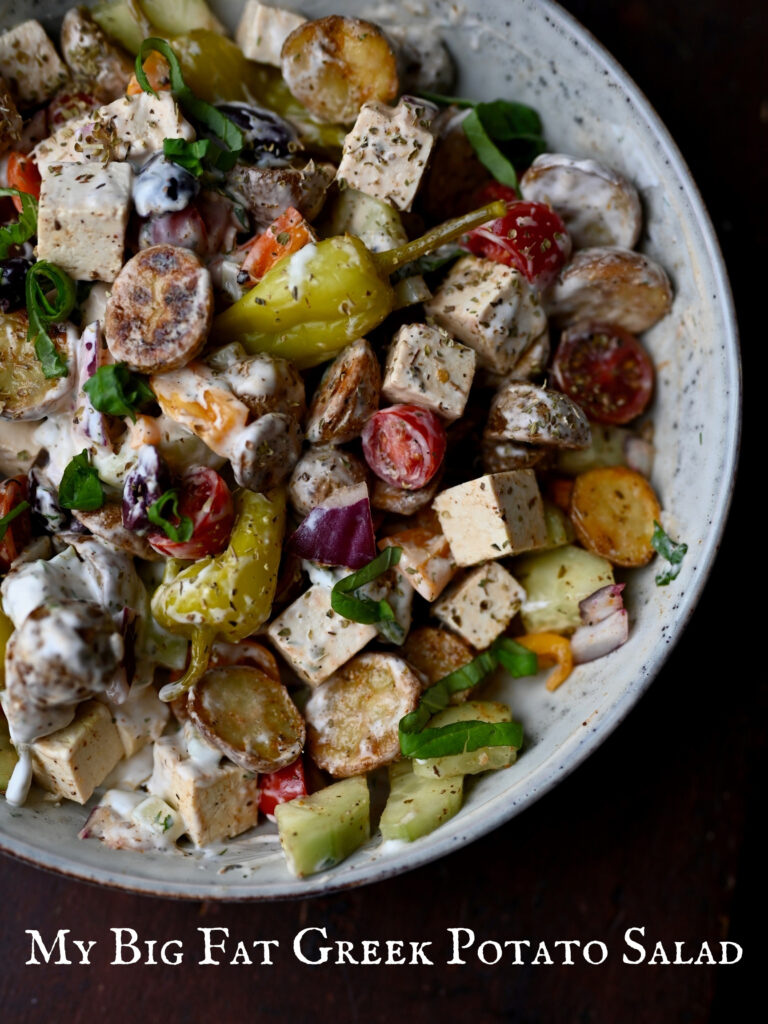 This potato salad is hearty and satisfying and could definitely stand alone as lunch or dinner. Isn't it pretty? It has all of the amazing flavors of traditional Greek salad, but I added oven roasted baby potatoes and tofu "feta" for protein. You could use macaroni in place of the potatoes if you wish. It's great both ways.
You can never have too many potato salad recipes. Potato salad is so versatile. I hope you love this one as much as I do and make it part of your repertoire.
Make sure to use super firm tofu in this recipe. It's the only type that can mimic feta cheese effectively. Super firm tofu doesn't need to be pressed at all. Just pat it dry and cut it into cubes.
for the tofu feta:
14 oz. super firm tofu, patted dry
1/2 cup white wine vinegar
juice of 1/2 lemon
1/2 cup plain, unsweetened soy milk
1 Tablespoon fresh oregano, chopped fine (or 2 teaspoons dry)
3 large garlic cloves, minced
1 teaspoons sea salt
Cut tofu into 1/2 inch cubes and place in a container with a tight fitting lid. Add the rest of the ingredients and gently toss so the tofu is coated. Cover and refrigerate. Allow tofu "feta" to marinate for 4 to 24 hours.
for the salad:
2 to 3 lb. very small red or white potatoes, halved
1 Tablespoon olive oil
1 Tablespoon dry oregano
1 teaspoon smoked paprika
1 teaspoon onion powder
1 teaspoon garlic powder
salt and pepper
1 english cucumber, peeled, seeds removed, and cut into chunks
2 cups diced sweet bell pepper (I like to use a combination of colors)
2 cups grape tomatoes, halved
thinly sliced red onion, to taste
1/2 cup pitted kalamata olives (or more)
pepperoncini peppers (whole or sliced)
Toss halved potatoes with the olive oil, oregano, paprika, onion powder, garlic powder, salt, and pepper. Spread out on two parchment-lined baking sheets and bake at 400 degrees F. for 30 to 40 minutes, or until tender. Toss potatoes halfway through baking time. Remove from oven and set aside to cool.
for the cucumber tzatziki dressing:
1/2 cup English cucumber, chopped
1 cup vegan mayonnaise
2 Tablespoons nutritional yeast
juice of 1/2 lemon
1 to 2 Tablespoons finely chopped fresh dill (I like a lot)
salt and pepper, to taste
Whisk all in a small bowl, cover, and refrigerate until ready to serve.
When the tofu feta is done marinating, and the potatoes have cooled to room temperature, you can prepare your salad.
Only mix up what you are going to serve immediately. Unfortunately, this salad can't be mixed in advance or it will get soggy.
To serve:
Mix potatoes, cucumber, bell pepper, tomatoes, red onion, kalamata olives, and pepperoncini, in a bowl. Gently toss in the tofu "feta," and then toss with the tzatziki dressing. Garnish with fresh, chopped basil, a sprinkle of oregano, and a little more salt and pepper. So delicious!
Enjoy!
~Melissa
You may enjoy these related posts: