Print Friendly Version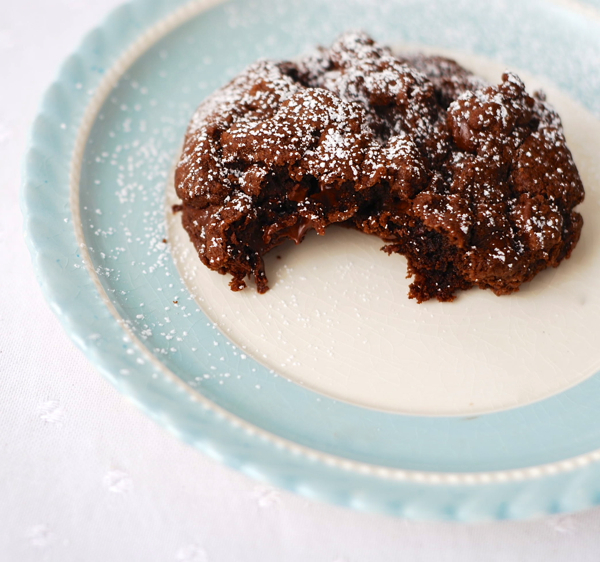 "Twelve cookies, one pound of chocolate chips-sounds like a good ratio to me. For these cookies, some of the chocolate chips are melted and mixed into the dough and some are mixed into the dough as chips. The result is a dark chocolate cookie with a heap of chocolate chips." ~Elinor Klivan
When I asked Gracie what kind of cookies we should make for Christmas she didn't hesitate when she said, "Those chocolate chocolate ones with all the chips, Mom." I kind of knew she'd say this. These are Jeff, Andie and Gracie's absolute favorite cookies. This is a recipe adapted from Elinor Klivan's recipe for Totally Chocolate Chocolate Chip Cookies. The title of her book, Big Fat Cookies, says it all. If you're a chocolate fanatic, you're in for a treat.
~Totally Chocolate Chocolate Chip Cookies~
2 and 2/3 cups semisweet or dark chocolate chips
1 cup unbleached, all-purpose flour
1/4 cup unsweetened Dutch-process cocoa powder
1 teaspoon baking soda
1/2 teaspoon salt
1 stick unsalted butter, slightly softened
1/2 cup brown sugar
1/4 cup granulated sugar
1 large, cold egg
1 teaspoon pure vanilla extract
Position rack in middle of oven. Preheat to 325 degrees F. Grease two large cookie sheets or line with cooking parchment.
Microwave 2/3 cup chocolate chips until just melted. Watch the chips very carefully so they don't burn. Remove from microwave. Set aside.
Sift flour, cocoa powder, baking soda, and salt in a medium mixing bowl and set aside. In the bowl of a Kitchen Aid, beat butter, brown sugar and granulated sugar with the paddle attachment until smooth. (About 1 minute on medium speed.) Stop mixer and scrape sides of bowl as needed during mixing. On low speed, mix in the melted chips until blended. Add egg and vanilla. Mix for 1 minute.  Add the flour mixture, mixing until just incorporated. With a heavy spoon, mix in the remaining 2 cups of chocolate chips by hand until chips are evenly distributed throughout the dough.
Using an ice cream scoop or a 1/4 -cup measuring cup, scoop mounds of dough onto prepared baking sheets, spacing cookies 3 inches apart.
Bake the cookies one sheet at a time until they crack slightly on top (18-20 minutes.) Cool cookies on baking sheets for 5 minutes. Carefully transfer to a wire rack to cool completely. Store completely cooled cookies in a tightly covered container at room temperature for up to 4 days.
Enjoy!
~Melissa
You may enjoy these related posts: