Print Friendly Version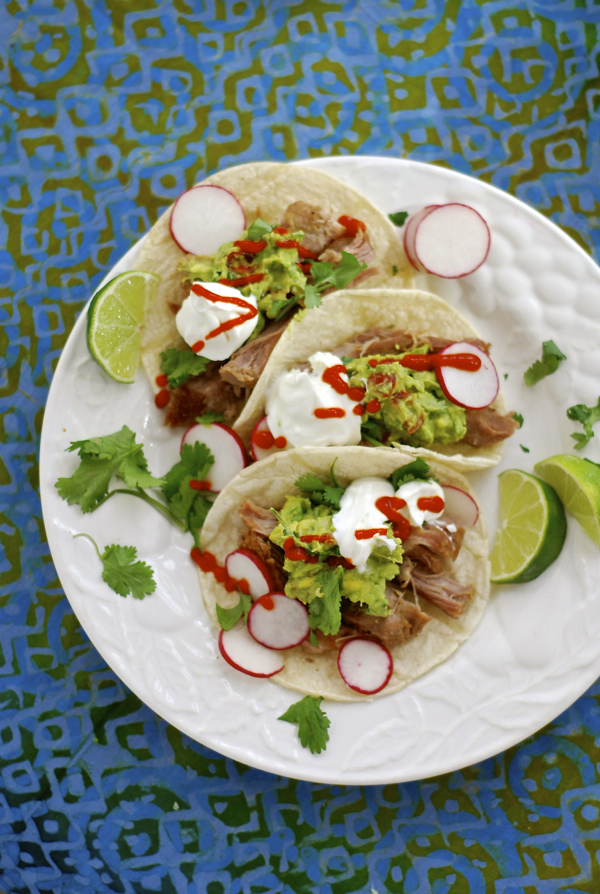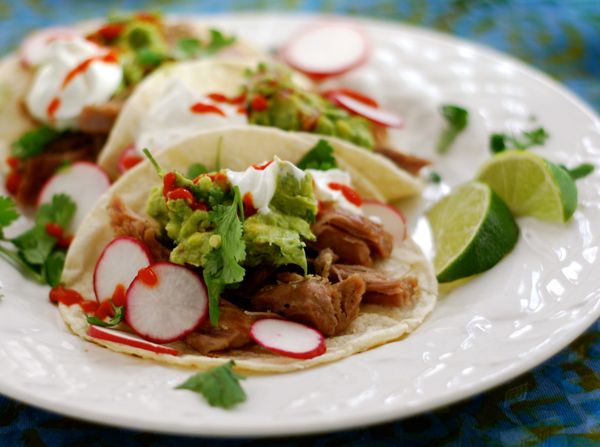 We gearing up for a little Cinco de Mayo celebration and I've been busy in the kitchen testing taco recipes. My favorite!
These delicious carnitas pork tacos are made by simmering the meat in water and then browning it. This creates a super tender, crisp and flavorful taco filling, and it's sooooo easy you're not going to believe it.
for 12 tacos:
2 lb boneless pork shoulder, cut into pieces OR bone-in pork steaks
sea salt and freshly ground black pepper
12 warmed or toasted, taco-sized tortillas (corn or flour)
1 small, sweet yellow onion (such as Vidalia or Maui) chopped
1/2 cup cilantro leaves, chopped
thinly sliced radishes
guacamole or chopped avocado
plain greek yogurt OR sour cream
chevre cheese, crumbled (optional)
lime wedges
hot sauce
Place pork pieces in a heavy Dutch oven. Add a couple inches of water to the pot. Bring to a boil over medium-high heat. Cook, flipping pieces occasionally, until water evaporates (this will take approximately 45 minutes.) Season with salt and pepper. Cook until very tender (you may have to add a bit more water to the pot.) Once the meat is fork-tender, and water has evaporated, continue to cook, turning the pieces frequently, until crispy and browned on all sides. Transfer meat to a platter and tear into bite sized pieces. Use as a taco filling with all of the above condiments.
Enjoy!
~Melissa
You may enjoy these related posts: