Print Friendly Version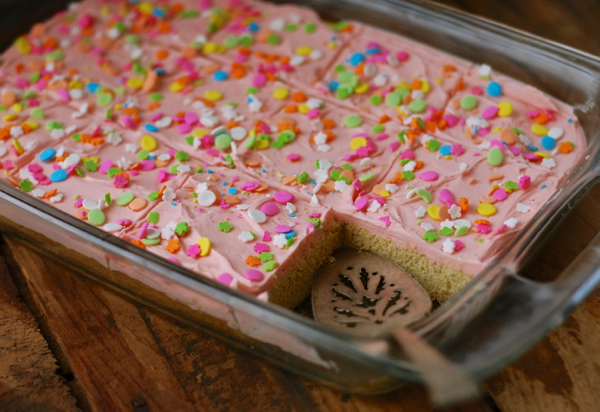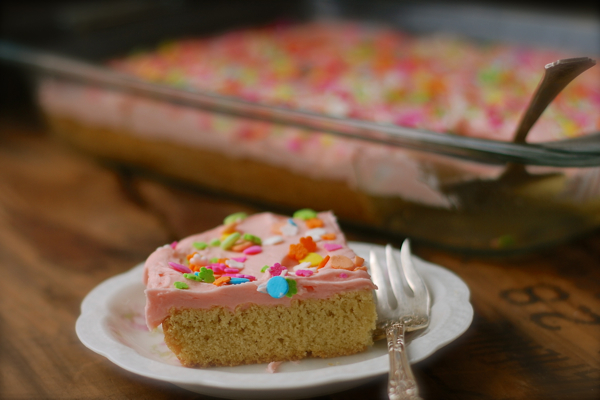 If you like sugar cookies you're going to love love love this easy recipe. Sugar cookies in a cake pan! They're moist, they're sweet, they're slathered in creamy, dreamy frosting! It doesn't get better than this!
for the cookies:
~ preheat oven to 375 degrees F. ~
3/4 cup real, unsalted butter (no substitutions)
3/4 cup granulated sugar
1/4 cup powdered sugar
2 large eggs, lightly beaten
2 teaspoons pure vanilla extract
2 and 1/4 cups all purpose flour
1 teaspoon baking soda
1/2 teaspoon salt
Cream butter and sugars until smooth. Add eggs and vanilla, mix until smooth. Mix in flour, soda and salt. Mix until smooth.
Butter a 9×13 glass cake pan. Spread cookie dough into the bottom of the pan in and even layer. (I use buttered hands to do this and it works very well.) Bake for 14 to 16 minutes or until set and lightly golden brown around the edges. Cool completely and frost with pink vanilla buttercream frosting. Use a bunch of sprinkles to make it pretty.
for pink vanilla buttercream frosting:
6 Tablespoons real, unsalted butter, softened
2 and 1/2 cups powdered sugar
3 Tablespoons heavy whipping cream
1 teaspoon pure vanilla extract
Place all ingredients in the bowl of a counter top mixer. Using the whisk attachment, mix on low until ingredients are incorporated. Turn to high and whip until light and fluffy (3 minutes.)
*Note: This recipe makes enough buttercream frosting to frost a 9×13 sheet cake.
Enjoy!
~Melissa
You may enjoy these related posts: