Print Friendly Version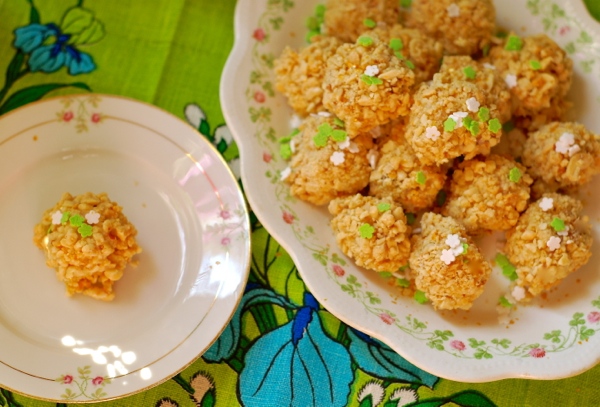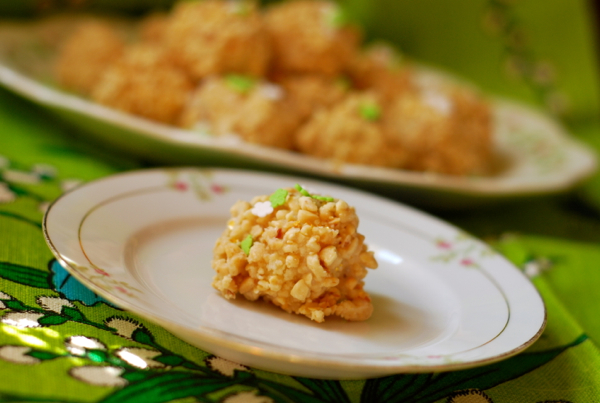 "The Blarney Stone is a block of carboniferous limestone built into the battlements of Blarney Castle, Blarney, about 8 kilometres from Cork, Ireland. According to legend, kissing the stone endows the kisser with the gift of the gab." ~Wikipedia
Top of the afternoon to ya! 🙂 I just finished making up a batch of these delicious little nibbles. They're adorable, easy to make and they sort of taste like salted nut roll cake bites. My kind of St. Patrick's Day dessert! I make LOTS of stuff for our St. Paddy's day gatherings, so I like to keep each part of the meal simple.
You can use homemade or store bought pound cake for this. I like to use the already sliced Sara Lee pound cake when I'm in a hurry. Each slice of pound cake will yield 8 Blarney Stones, so plan accordingly.
Feel free to use your favorite homemade frosting or store bought frosting for these as well. You'll be thinning it out with Irish whiskey (for the adults) or milk (for the kiddos.)
for 32 Blarney Stones:
4  thick slices pound cake, each cut into 8 cubes
1 to 1 and 1/2 cup(s) vanilla frosting
2 Tablespoons Irish whiskey OR milk
2 heaping cups chopped, salted, dry roasted peanuts
green shamrock or flower sprinkles, for garnish
Lay a long length of waxed paper on your counter top. Cut each piece of pound cake into 8 uniform cubes. Place frosting and whiskey OR milk in a bowl and whisk until smooth. Place salted peanuts in another bowl. Dip the pound cake cubes, one at a time, in the frosting. Shake off excess. Place coated cake cube in peanuts and gently coat by rolling and pressing the nuts into the cake. Place on waxed paper. Repeat with remaining cake cubes. Allow to set for an hour before transferring to an air tight container and placing in refrigerator until ready to serve.
To serve: Place on a cute platter and garnish with sprinkles.
Enjoy, and Happy St. Patrick's Day to you!
XOXO,
~Melissa
You may enjoy these related posts: