Print Friendly Version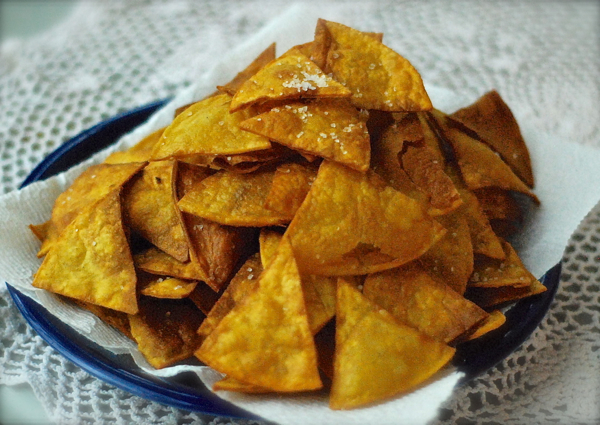 Making homemade tortilla chips takes a little time, but it's totally worth it for the flavor reward! They're so much better than store bought. They're the perfect vehicle for homemade nachos, pico de gallo, salsa, and guacamole. Crumble them over taco salad or tortilla soup, or add them to lunchboxes for a sandwich accompaniment your kids will never forget.
a stack of white or yellow corn tortillas (I use taco sized)
vegetable oil
sea salt
Using a pizza cutter, or very sharp chef's knife, cut round tortillas into pizza-shaped wedges. Line a bunch of plates with a couple of paper towels each. Heat a couple inches of vegetable oil in a large, heavy skillet or Dutch oven. Once oil is very hot, but not smoking, add approximately 8 tortilla wedges at a time (be careful not to crowd the pan or your chips won't cook correctly). Using cooking tongs, flip the chips frequently until they're golden brown. Transfer cooked chips to the prepared plates. Don't stack the hot chips or they'll get soggy. Repeat this process until all of the tortilla wedges are used up, or until you feel you have enough chips. Sprinkle chips with a little coarse sea salt while they're still warm. Once chips are completely cool they can be transferred to an airtight container until you're ready to serve them, or serve them fresh! Yummy!
Enjoy!
~ Melissa
You may enjoy these related posts: