Print Friendly Version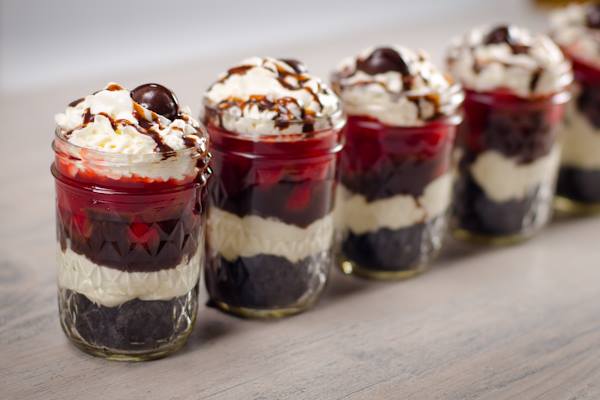 Are you ready for another amazing cheesecake jar dessert? Everyone loves the Blueberry Cheesecake Jars, Banana Cream Pie Jars, and the Pumpkin Pie Cheesecake Jars so much, I just couldn't resist creating another one. This one would be particularly pretty for Christmas or Valentine's Day! If you like chocolate covered cherries, Oreos, and cherry cheesecake as much as I do, then you're going to love Chocolate Covered Cherry Cheesecake Jars!
for the Oreo cookie crust layer:
1 heaping cup Oreo cookie crumbs
1/4 cup salted butter, melted
Combine in a medium mixing bowl, and then divide evenly between 6 half-pint canning jars.
for the cheesecake layer:
8 oz. cream cheese, softened to room temperature
1/2 cup sour cream
1/2 cup sugar
2 Tablespoons lemon juice
1/2 teaspoon vanilla
Using an electric mixer, combine all ingredients in a medium mixing bowl until smooth. Divide cheesecake filling evenly between the jars, on top of the cookie cracker crust layer.
for the chocolate cherry pie layer:
6 to 12 Tablespoons chocolate syrup (such as Hershey's}
1 (15 oz.) can of your favorite pie filling
Squirt desired amount of chocolate over cheesecake layer, followed by a layer of cherry pie filling. Cover and refrigerate until ready to serve.
To serve: Remove jar lids, and top desserts with a dollop of sweetened whipped cream, a drizzle of chocolate syrup, and a chocolate covered cherry!
Enjoy!
~Melissa
You may enjoy these related posts: