Print Friendly Version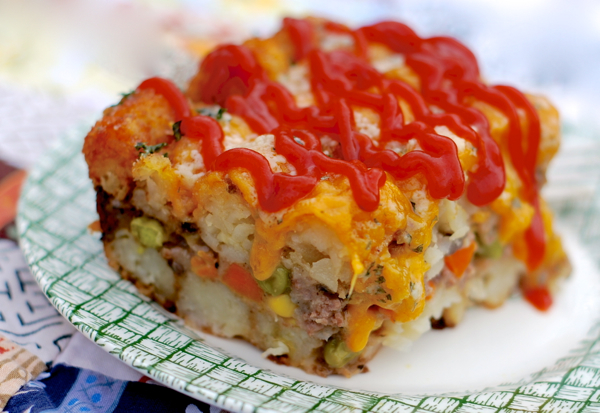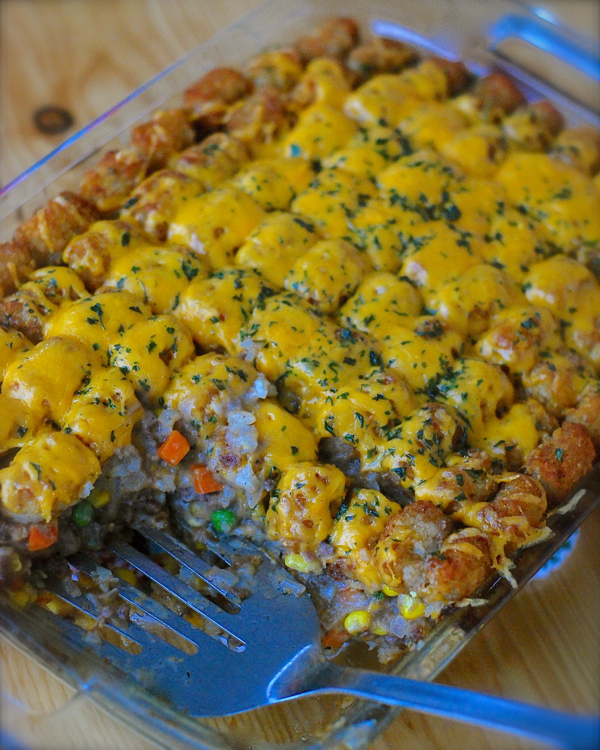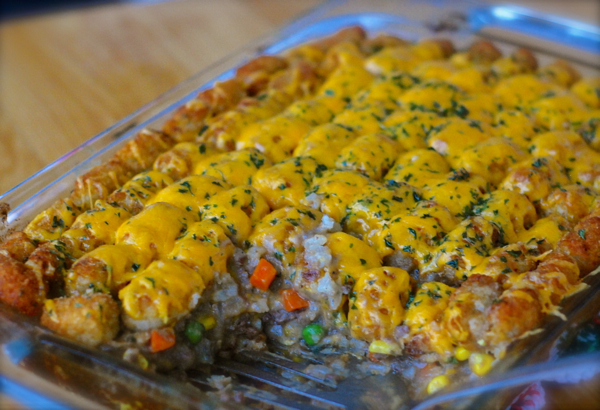 It seems that everyone has at least one or two recipes that are their favorites simply because they're what grandma has made and served ever since they were little. Whenever they visit her house they smell those familiar, delicious, comfort food smells coming from the kitchen, and whenever they sit at her table they know that food is grandma's love language. Who can resist that?
I have quite a few favorites that began this way. Cucumber salad, apple crisp, fried chicken, ambrosia salad, spaghetti, lasagna, Hurry-Up Dinner… and this lovely hot dish.
Once again, in the Midwest, we call casserole "hot dish." I know. Weird.
Grandma piles cheese on her tater tot hot dish, and puts some inside too! It elevates this awesome comfort food to a whole new level. I hope you love it as much as we do!
~ preheat oven to 350 degrees F. ~
60 to 64 oz. frozen Tater Tots (you may have some left over)
1 and 1/4 lb. lean ground beef
1 medium onion, chopped
12 oz. shredded cheddar cheese, divided
1 teaspoon garlic powder
1/2 teaspoon freshly ground black pepper
1 and 1/2 cups frozen peas and carrots (thawed and drained well)
1 cup frozen corn (thawed and drained well)
2 (10.75 oz.) cans condensed cream of mushroom soup (or homemade cream soup)
1 Tablespoon chopped fresh parsley OR dried parsley (garnish)
ketchup
In a large, heavy skillet, brown the hamburger over medium-high heat. You don't want to totally cook it, make sure it's half browned and half pink. Drain if necessary. Place in large mixing bowl.
In the same skillet, saute the onion until tender and translucent. Add the onion, along with 1/3 of the shredded cheddar cheese, garlic powder, pepper, thawed/drained peas and carrots, thawed/drained corn, and cream soup (don't dilute,) to the mixing bowl with the meat in it. Mix until everything is thoroughly combined.
Line up frozen Tater Tots in straight rows in the bottom of a 9×13 baking dish. Spread the meat mixture over the tater tots followed by another layer of lined up Tater Tots. Place in oven and bake, uncovered for 45 minutes. Remove from oven. Increase oven temperature to 375 degrees F. Return casserole to oven for another 20 minutes. Sprinkle the rest of the cheese and parsley on top and bake just until cheese is totally melted.
Remove from oven and rest for 15 minutes prior to cutting and serving. We like our Tater Tot Hot Dish topped with lots of ketchup.
Enjoy!
~ Melissa
You may enjoy these related posts: