Print Friendly Version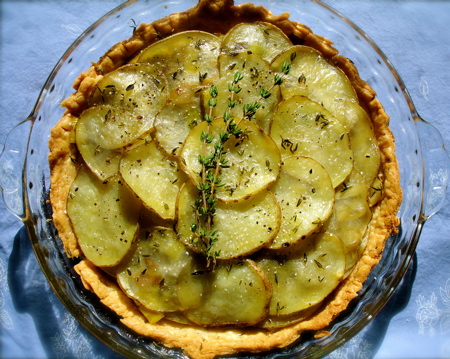 photograph by Melissa Placzek
~Potato & Leek Tart~
So, I've been going through old magazines and selecting special recipes to make on the weekends. Oh my, there are so many. I decided to start with this savory French tart recipe that I discovered in the March 2008 issue of my favorite, Victoria Magazine.
It's kind of funny. I've been getting this magazine for years and years, and very rarely do I use the recipes. I resolved to change this pattern this past weekend by making this tart. We had this for a relaxing, Sunday brunch at home along with fresh fruit and scrambled eggs. Yum! I can't wait to make more of these pretty, pretty recipes.
This recipe makes 1 (11-inch) tart
1 and 1/2 cups all purpose flour
1 teaspoon fresh cracked black pepper
1/2 teaspoon salt
3/4 cup cold, unsalted butter, diced
2/3 cup sour cream
1/4 cup + 2 Tablespoons butter, divided
2 leeks, white and pale green parts
2 Tablespoons fresh thyme
3 large Yukon Gold potatoes, sliced thin, blotted
1 and 1/2 teaspoons salt, divided
1 teaspoon ground black pepper, divided
garnish: fresh thyme sprigs and leaves
In bowl of food processor, combine the flour, pepper, salt and unsalted butter. Pulse until dough resembles coarse crumbs. Add sour cream and pulse until dough forms a ball. Remove from bowl. With floured hands, roll into a disc. Wrap with plastic wrap and refrigerate for one hour.
Preheat oven to 350 degrees F.
On a lightly floured surface, roll chilled dough into a 14 inch circle. Place dough in deep 11 inch, fluted tart pan. Trim excess dough from edges. Line dough with cooking parchment. Top with pie weights. Bake for 40 minutes or until crust is lightly browned. Remove from oven. Cool completely on a wire rack. Remove weights and parchment.
Raise oven temperature to 425 degrees F.
In a skillet, melt 2 Tablespoons butter. Add washed and sliced leek, and fresh thyme. Cook, covered, stirring occasionally until leek is tender. 15-20 minutes. Remove from heat and set aside to cool.
Starting at sides of tart pan, arrange 1/3 of the potato slices in overlapping concentric circles, covering bottom of the crust. Press gently to compress. Sprinkle evenly with 1/2 teaspoon salt, a little pepper and 1/3 of the leek mixture. Dot with 1 Tablespoon butter. Repeat layers 2 more times, ending with the potatoes. Coat a large piece of aluminum foil with 1 Tablespoon butter. Cover tart tightly with the foil, buttered side down. Place a small cast iron skillet on top of the foil to to weight it down, being careful not to crush the sides of the crust. Place in oven. Bake for 50 to 60 minutes, or until potatoes are tender when pierced with a fork.
Let stand for 15 minutes on a wire cooling rack. Remove skillet and foil. Serve in wedges. Garnish with additional thyme if desired.
Enjoy!
~Melissa
You may enjoy these related posts: