Print Friendly Version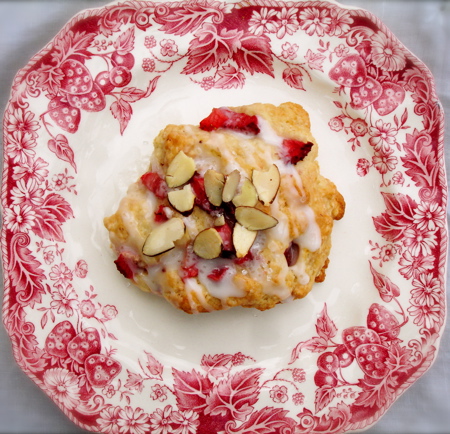 photograph by Melissa Placzek
Hello friends!
I decided to try something new this week, instead of the usual "Mysteries of Tea" entry where I feature different kinds of tea, I'll be changing it up once in awhile and doing Teatime Tuesday.
Teatime Tuesday entries will include a recent tea experience and/or recipe for a tea-related treat. I think this will keep our teatime interesting, and not so text-bookish. After all, the main point of the tea experience is to relax and have fun, right?
So, yesterday I went to my friend Clare's quilting studio for tea. Celtic music was playing in the background, and she had candles burning when I arrived. We had a really great talk and showed each other the quilt projects we've been working on. Our couple of hours together flew by!
I brought a plate of these yummy scones to share, and some Mrs. Kelly's Apricot Ceylon tea. The scones turned out so good, and this tea was the perfect accompaniment! I decided this would be the first official teatime treat I'd share with you.
~Strawberry Almond Scones~
for the scones:

3 cups all-purpose flour
1/4 cup + 2 Tablespoons sugar
1 Tablespoon baking powder
1/2 teaspoon baking soda
1/2 teaspoon salt
1 stick butter
1 and 3/4 cup plain yogurt
1 and 1/2 cups fresh strawberries, sliced
2 Tablespoons sanding sugar
for the glaze:
2 cups powdered sugar
4 Tablespoons milk
1/2 teaspoon pure almond extract
1/2 cup sliced, toasted almonds
Preheat oven to 400 degrees F. Spray a large baking sheet with nonstick cooking spray, or line with baking parchment. In a large bowl, combine flour, sugar, baking powder, baking soda, and salt. Using hands, mix butter into flour mixture until it resembles coarse crumbs. Stir in the yogurt, and gently fold in the strawberries.
Scoop 12 large mounds onto baking sheet. Sprinkle with sanding sugar. Bake for 30 to 35 minutes, until golden and cooked through. Cool scones on wire racks for 30 minutes.
Drizzle scones with glaze and top with some toasted almonds before serving.
Enjoy!
~Melissa
You may enjoy these related posts: