Print Friendly Version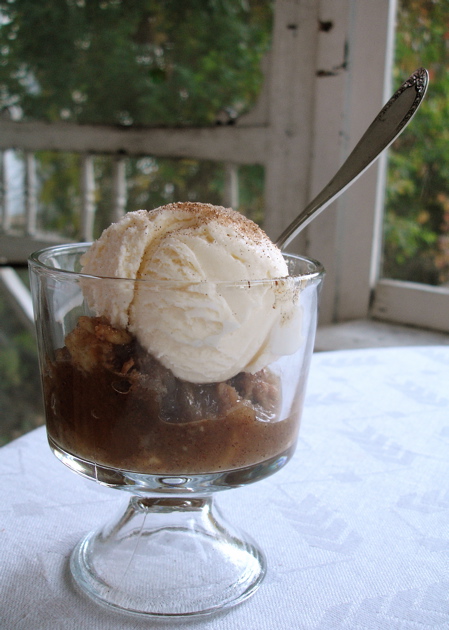 This is my friend Stephanie's recipe for apple crisp. I've made lots of apple crisp, and this one is by far the best I've ever tasted. I would have never thought to add raisins, but when I tasted it in this crisp…I decided that this was a genius move. Thanks for a great recipe friend!
~Steph's Apple Crisp Deliciousness~
10 apples – use 2-3 different kinds, peeled and small slices
1 c. honey
1 T. lemon juice
1 T. vanilla
1 T. cinnamon/sugar mix (heavy on cinnamon, lighter on sugar)
1 c. flour
1 c. oats
1 c. brown sugar
1/2 t. salt
1/4 t. baking powder
1/4 t. baking soda
1/2 c. raisins
1-1/2 sticks butter, melted
Put the peeled, sliced apples directly into a 2 qt. baking dish. Drizzle with the honey and lemon juice. Mix. Then, sprinkle with vanilla and cinnamon/sugar. Mix until thoroughly coated.
In a separate bowl, combine flour, oatmeal, brown sugar, salt, baking powder, baking soda, and raisins. Then with dry ingredients mixed, add the melted butter. Mix until good-sized crumbles form. Spoon these over the apples.
Bake 375 for 1 – 1.5 hours.
Mmmmmmmmmm!
Enjoy!
~Melissa
You may enjoy these related posts: