Print Friendly Version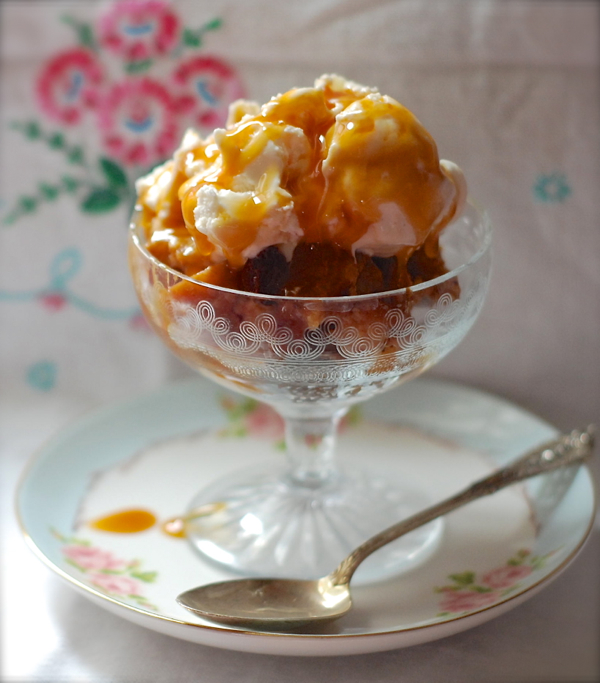 I spent the whole day doing some much needed spring cleaning. Now I just want to relax and watch something on Netflix. But, before I do, I need to share this recipe with you. This makes the whole house smell like apples and cinnamon while it slow cooks in your Crock Pot. The best aromatherapy ever! Just pop it in when you get up in the morning, and by dinner time it's done! Top it with heavy cream or ice cream and a drizzle of caramel or butterscotch sundae topping… sprinkles, toasted coconut, chocolate chips, nuts or fresh berries would be good too.
12 slices cottage bread or other dense bread
4 large apples, cored and chopped (peeled or unpeeled)
8 oz. vanilla pudding mix (instant or cook & serve will both work)
2 cups half & half
1 teaspoon cinnamon
1 teaspoon apple pie spice
1/2 teaspoon ginger
1/2 teaspoon nutmeg
zest of one lemon
1/4 cup butter, melted
1 cup raisins or sultanas
toppings of your choice
Cut the bread into 1 inch cubes. Cut apples into 1 inch cubes. Place bread and apples in a large mixing bowl. In a separate bowl, whisk the pudding mix, milk, spices and lemon zest together until well combined. Pour the pudding mixture over the bread and apples. Gently toss until everything is evenly coated with the pudding mixture. Pour into the bowl of a 6 or 7 quart Crock Pot. Drizzle the melted butter evenly over the top. Cover Crock Pot. Set on "LOW" and cook for 6 hours or until the edges are a deep golden brown and the bread pudding is no longer wet but somewhat sticky. Sprinkle the raisins over the top when the pudding is close to done.
Scoop the warm bread pudding into pretty dessert cups and garnish with whatever you like.
Enjoy!
~Melissa
You may enjoy these related posts: