Print Friendly Version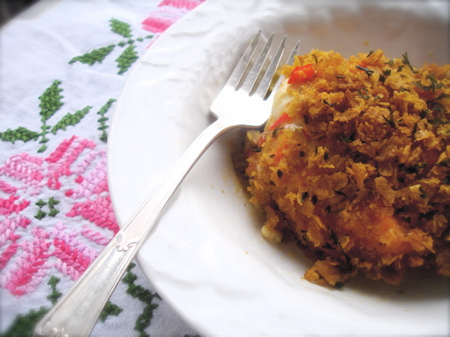 ~ chicken divine ~
A truly heavenly baked chicken dish. Comfort food at it's best…and, for added goodness, I substituted thick and creamy Greek yogurt for the mayonnaise in the original recipe. It still tastes fantastic, but this way it's much healthier! I also upped the veggie content. We like this with baked sweet potatoes and a crispy green salad.
6 boneless, skinless chicken breasts cooked and cubed
(OR meat of one fully cooked rotisserie chicken)
1 head broccoli, stems removed
2 cans cream of chicken soup
10 oz. Greek yogurt
1/2 red bell pepper, chopped
1/2 small yellow onion, chopped
1 cup shredded cheddar cheese
1 cup shredded mozzarella cheese
1 cup shredded swiss cheese
2 cups cornflake crumbs
extra virgin olive oil
1 teaspoon onion powder
1/2 teaspoon garlic powder
salt and pepper
parsley flakes
Place the chicken chunks in the bottom of a 15 x 9 glass cake pan. Top with the broccoli florets. In a medium bowl, combine the cream soup, yogurt, chopped bell pepper and onion. Spread evenly over the chicken and broccoli.  Sprinkle the shredded cheeses evenly over the creamy mixture. In a small bowl, mix the cornflake crumbs with just enough olive oil to moisten the crumbs. Add the onion powder and garlic powder to the cornflake mixture and sprinkle evenly over the shredded cheese layer. Sprinkle salt, pepper and parsley flakes over the cornflake topping.
Place the casserole in a 350 degree F. oven for 45 minutes to an hour. Until cornflake crumbs are golden brown and the casserole is heated through.
Makes 8 generous servings
Enjoy!
~Melissa
You may enjoy these related posts: