Print Friendly Version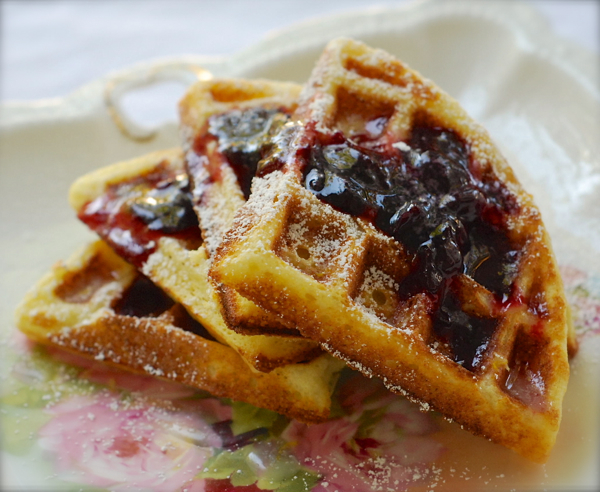 I've been a fan of lemon and ricotta in the form of pancakes and waffles since we first visited a local restaurant here in Minnesota called Hell's Kitchen. We went there one fine Sunday morning, after a home and garden show, with our friends Jana and Olivia, and enjoyed their famous "gospel" brunch. I was inspired to create a recipe of my own after trying those melt in your mouth pancakes!
I decided to make waffles instead of pancakes because I just think waffles are soooo much easier, and I actually prefer them to pancakes if given the choice. Pancakes always seem to soak up too much syrup, which makes them a bit too sweet for my taste.
You're going to love these. They're lemony, light, tender and remind me of sponge cake. We like them with whole cherry jam or a simple lemon syrup… (Just mix the juice of two large lemons with powdered sugar until the syrup reaches desired consistency.) Try these awesome waffles and see for yourself. Love at first bite!
1 and 1/2 cups whole milk ricotta
2 cups milk
6 large eggs (yolks and whites separated into different bowls)
1 and 1/2 cups sugar
2 cups cake flour
1/2 cup cornmeal
1 Tablespoon baking powder
1 stick (1/2 cup) real butter, melted
zest of one lemon
whole cherry preserves or lemon syrup (for topping)
In a large mixing bowl, combine the ricotta and milk until smooth. Separate eggs. Add yolks and sugar to ricotta mixture and place the whites in the bowl of a Kitchen Aid or other counter top mixer. Mix on high until they're light, fluffy and soft peaks form.
In another bowl, mix the cake flour, cornmeal and baking powder. Mix the dry into the wet ingredients until well combined. Whisk in the melted butter and the lemon zest. Carefully and gently fold in the beaten egg whites just until evenly combined.
Cook according to manufacturer's directions for your particular waffle iron. Dust hot waffles with a little powdered sugar, top with desired toppings and serve.
Enjoy!
~Melissa
You may enjoy these related posts: