Print Friendly Version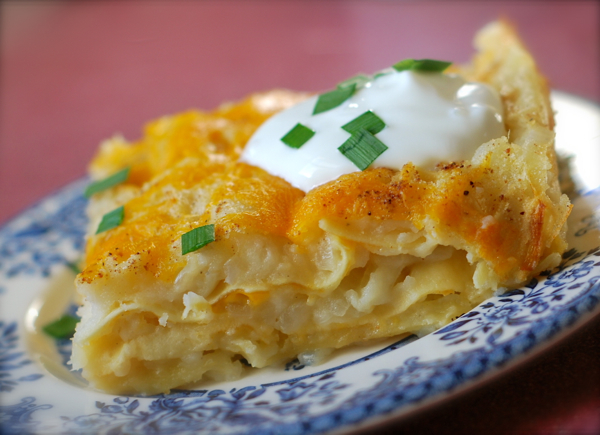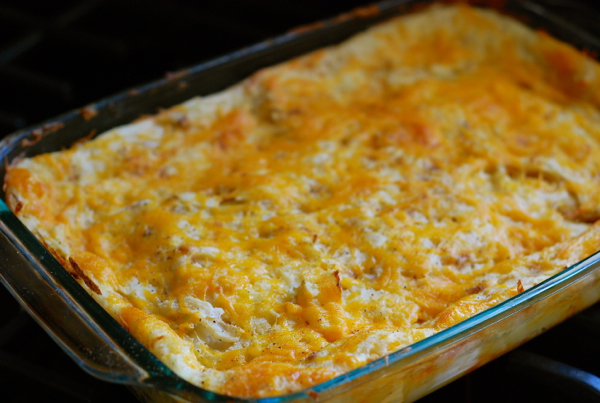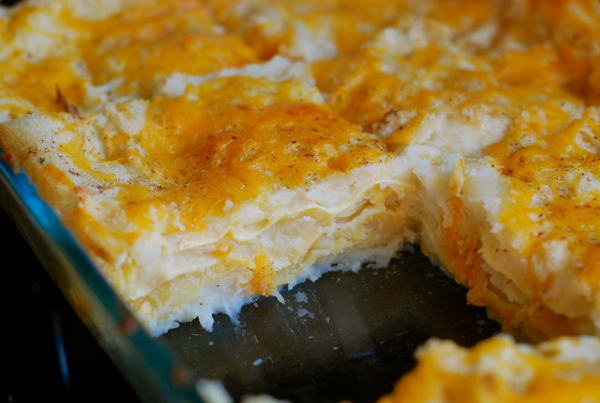 We love pierogies! I've made big batches of the real thing before and then put a bunch in the freezer for future use. They go good with virtually any meal. They stand in well for potatoes.
If you're in a hurry and have a craving for pierogies, this shortcut casserole is the way to go. It's so delicious and goes together quickly. You'll have 8 big servings of cheesy potato goodness to enjoy with dinner! We had ours with pork chops, a simple tossed salad, and cinnamon apples. YUM!
preheat oven to 350 degrees F.
12 to 15 no-cook lasagna noodles
8 medium potatoes, peeled and cubed
4 large onions, halved and sliced
1/2 cup butter
1/3 cup whole or 2% milk
1 teaspoon salt
1/2 teaspoon black pepper
1 teaspoon onion powder
1/2 teaspoon garlic powder
1/4 teaspoon nutmeg
2 large eggs
4 cups shredded cheddar cheese
sour cream and chives (topping/garnish)
Cook uniformly cubed potatoes in boiling water for approximately 20 minutes, or until tender. Drain and place in a large mixing bowl. Add 1/4 cup of the butter, the milk, salt, and pepper. Mash until smooth. Stir in 1 cup of the cheese.
Cook onions in a large skillet with the remaining 1/4 cup of the butter for about 10 minutes, or until tender and lightly golden. Once done, add the onions to the potatoes. Stir well and set aside to cool a bit before adding the eggs. Mix well.
Generously butter a 9×13 baking dish. Spread 1/4 of the potato mixture on the bottom of the pan. Place a layer of lasagna noodles on the potato layer. Top with another 1/4 of the potato mixture. Sprinkle 1/3 of the cheese over that. Layer two more times, ending with the cheese. Sprinkle onion powder, garlic powder, and nutmeg evenly over the top.
Cover and bake in preheated oven for 40 to 45 minutes, or until noodles are very soft and the casserole is hot all the way through. Uncover, and allow casserole to stand for 15 minutes prior to cutting and serving.
Top with sour cream and freshly snipped chives!
Yield: 8 large servings.
Enjoy!
~Melissa
You may enjoy these related posts: