Print Friendly Version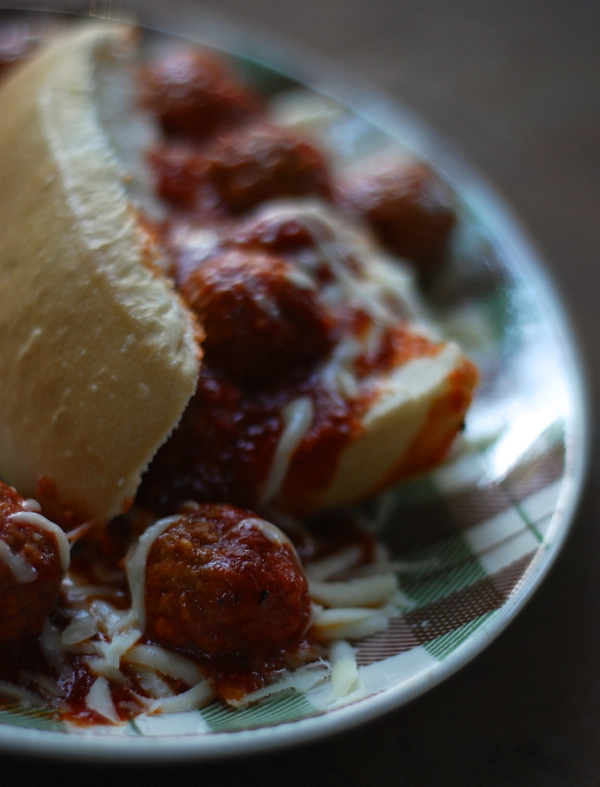 Tonight I'm thinking we'll have "breakfast for dinner." Pancakes with butter and real maple syrup, thick-cut applewood-smoked bacon, scrambled eggs, and hot, spiced apple cider or Mexican hot cocoa. It's the perfect sort of day to head out to the deck and soak in the sunshine… breathe in the fresh fall air. I am seriously in love with October.
This weekend is the Red Wing Fall Festival of the Arts so I'm sure we'll be taking a stroll downtown to see what there is to see. It's always fun to get lunch at the food stands, take in some art and live music, stop in at a wine bar or an outdoor cafe for a glass of vino, and do a little leaf peepin'.
Last night we had these amazingly good, and oh-so-easy, Crock Pot Meatball Subs. I'm in the home stretch of creating my first e-book and I can't wait to share these 22 Crock Pot recipes with you along with a few other surprises. This has been so fun to put together! Soon… I promise!
This recipe will serve 8 hungry people. Just buy a pack of good quality, crusty rolls so they can hold up to the sauce. Prepare to make yummy noises.
2 lb. small, pre-cooked, frozen Italian meatballs
2 (1 lb. each) jars of your favorite spaghetti sauce or marinara (approximately 5 cups)
1 teaspoon garlic powder
1 teaspoon onion powder
1 Tablespoon dry Italian seasoning (or Pizza seasoning)
8 good quality hoagie, sub or French rolls, split
8 oz shredded Mozzarella
Parmesan cheese for sprinkling
Place the frozen meatballs, 2 jars of spaghetti sauce, garlic powder, onion powder and Italian seasoning in a large (6 or 7 quart) Crock Pot/Slow Cooker. Stir Well and push the meatballs below the surface of the sauce as good as you can.
Cover and turn on the "LOW" setting for 5 hours.
Stir and place 6 to 8 meatballs on each of the split rolls. Top each sub with about 1/2 cup of the sauce and a generous sprinkling of Mozzarella and Parmesan.
Enjoy!
~Melissa
You may enjoy these related posts: