Print Friendly Version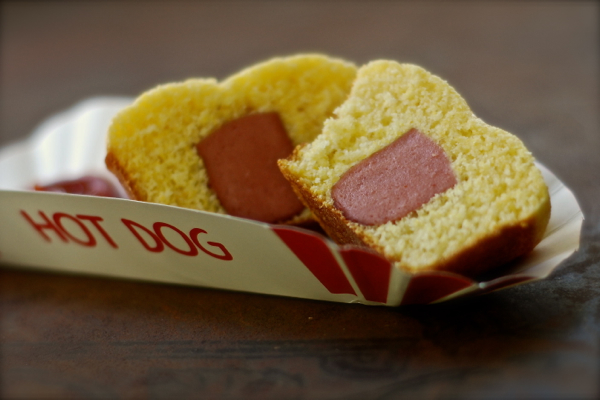 Hello, Lovelies! Happy weekend! We're headed out to the Red Wing Festival of the Arts today with my brothers and nephew. It's a great day for some outdoor fun, and I'm looking forward to it.
Here's a little recipe I tried a few days ago. My daughter Grace adores corn dogs so I thought this would be a cute after school snack for her. These would make a fun addition to a children's gathering or birthday party too.
Feel free to use your favorite, homemade cornbread recipe for these if you don't like using pre-made cake mixes. THIS sweet, cake-like corn bread or THIS cheesy jalapeno corn bread  would both work wonderfully. I took the easy route this time because I happened to have a couple of those little Jiffy mixes on hand.
yield: 12 muffins
2 (8.5 oz each) boxes of Jiffy Corn Muffin Mix (prepared according to directions)
3 hot dogs (cut into 4 pieces each) to make 12 pieces
Spray 12 muffin tins with cooking spray. Fill each of the tins about 2/3 full. Place a hot dog piece upright in the center of each muffin and bake according to the box directions (or the directions for the corn bread recipe being used.) Bake until firm on top when touched and golden around the edges.
Cut into halves or quarters and serve with ketchup.
Enjoy!
~Melissa
You may enjoy these related posts: