Print Friendly Version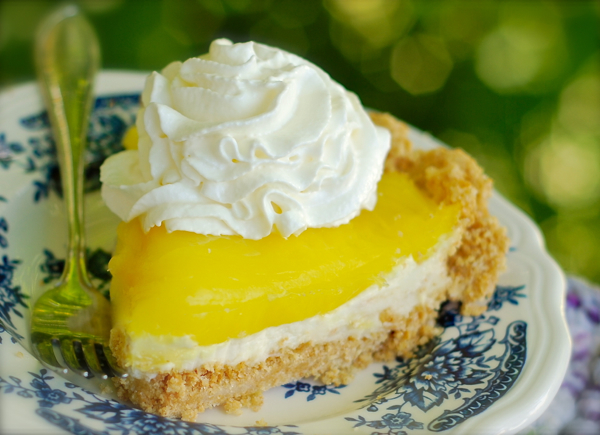 I love making pies all year round. Spicy, apple and pumpkin pies in the fall, pecan and mincemeat for Christmas, pies bursting with fruit during the summer months… unless it's too hot to bake. When it's too hot to bake I like creamy, cool pies that don't require any baking. Pies like my No-Bake Blueberries & Cream Pie, Norske Nook Banana Cream Pie, Marshmallow Mermaid Pie, banana cream pie jars, Oreo & Heath Ice Cream Pie, Fairy Godmother's Pumpkin Ice Cream Pie, blueberry cheesecake jars, and Peppermint Bon Bon Oreo Ice Cream pie, among others.
Here's a twist on the favorite lemon lush dessert, cheesecake, and lemon meringue pie. It's so delicious, lemony, and refreshing on a summer evening after dinner. We take slices out to our front porch and enjoy our dessert with tall glasses of iced tea.
~ serves 6 to 8 ~
for the graham cracker crust:
2 cups crushed graham cracker crumbs
1/2 cup powdered sugar
1/2 cup (1 stick) softened, salted butter
Mix the graham cracker crumbs and powdered sugar together in a large mixing bowl. Add butter and mix, using your fingers, until it becomes crumbly. Don't overmix. Firmly press into a deep dish pie plate, covering the sides and bottom with the crust mixture. Chill until crust is cold.
for the cheesecake layer:
8 oz. cream cheese, softened to room temperature
1/4 cup powdered sugar
1 Tablespoon milk
1 teaspoon pure vanilla extract
Mix all until smooth. Spread in an even layer on the bottom of the cooled graham cracker pie crust.
for the lemon layer:
1 (15.75 oz.) can of your favorite lemon pie filling OR lemon curd
Pour all of the pie filling onto the cheesecake layer. Smooth evenly using a rubber spatula. Chill for 4 to 6 hours before slicing. Serve each slice with a generous dollop of whipped cream.
Enjoy!
~Melissa
You may enjoy these related posts: