Print Friendly Version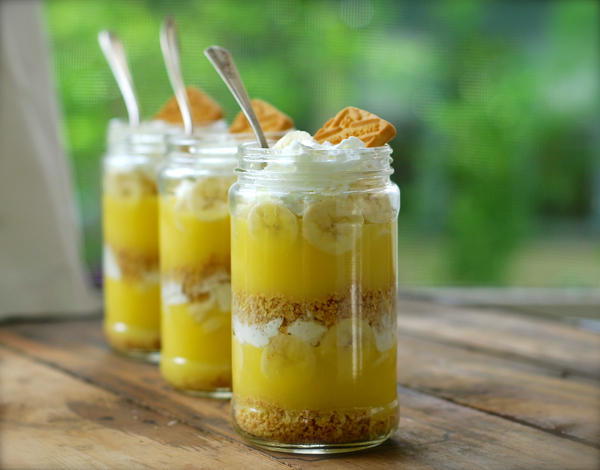 I've been getting lots of requests for more jar desserts! My Blueberry Cheesecake Jars have been shared and pinned thousands of times, and some other favorites have been the Mini Victoria Sponge Cake Jars, the Brownie Ice Cream Sundae Jars and the Red White & Blueberry-Strawberry Shortcake Jars. I decided to create another jar dessert over Memorial Day weekend, and here's what I came up with. They turned out delicious and were a big hit for our picnic!
If you use sweetened, real whipped cream as I did, these jars won't hold up in the fridge very long and should probably be enjoyed within an hour or two. If you want jars that will hold up for a few days in the fridge, you can use Cool Whip in place of the whipped cream (not my first choice,) or you can make cheesecake jars by simply mixing equal parts real sweetened heavy whipped cream and softened cream cheese together until smooth. The cheesecake jars will be good for 5 days in the refrigerator and travel well when packed into a cooler full of ice.
I made 3 sharable Banana Cream Pie Jars that are cute when served as "couples" desserts. Simply serve each one with two spoons! Or, if you want individual desserts, pack them into 6 smaller jars.
for 3 big sharable dessert jars:
3 (26 oz.) wide mouth jars
1 box Lorna Doone shortbread cookies
4 Tablespoons melted butter
3 bananas, peeled and sliced
2 small (1.4 oz) boxes banana cream pudding mix (instant or cook & serve)
real sweetened whipped cream (I used Redi Whip)
Make pudding according to package directions. You can use instant, but the cook & serve is so much better. Once prepared, chill in refrigerator until you're ready to assemble the dessert jars.
Place all of the Lorna Doone cookies in a food processor, reserving 3 for garnishes. Pulse cookies until uniform crumbs form. Place cookie crumbs in a mixing bowl along with the melted butter. Mix well. Place 1/6 of the cookie crumbs in each of the 3 jars. Spoon a layer of pudding over the cookie crust in jars, followed by 1/2 of a sliced banana in each and a generous dollop of whipped cream. Repeat layers, ending with the whipped cream. Garnish each jar dessert with a whole shortbread cookie.
Enjoy!
~Melissa
You may enjoy these related posts: