Print Friendly Version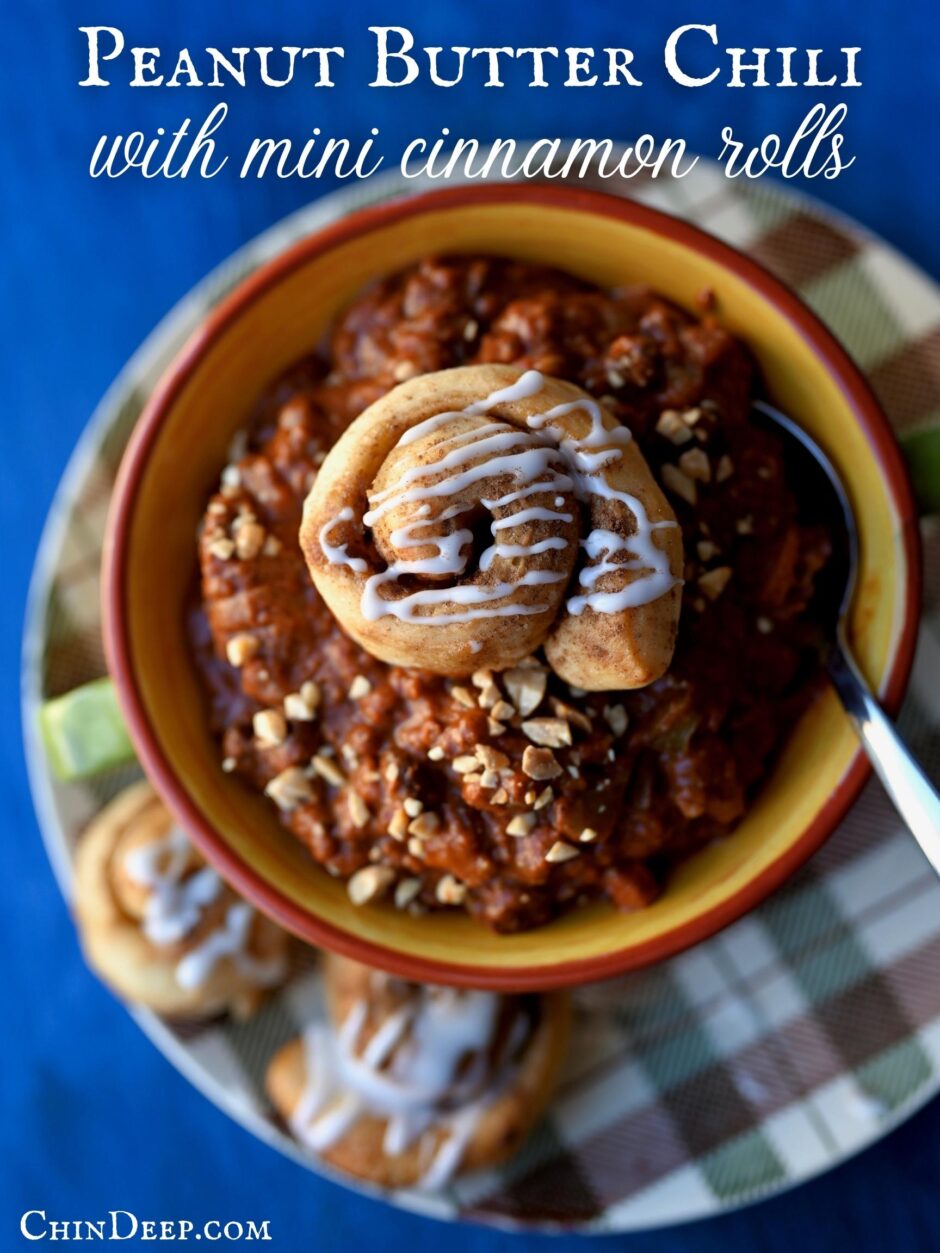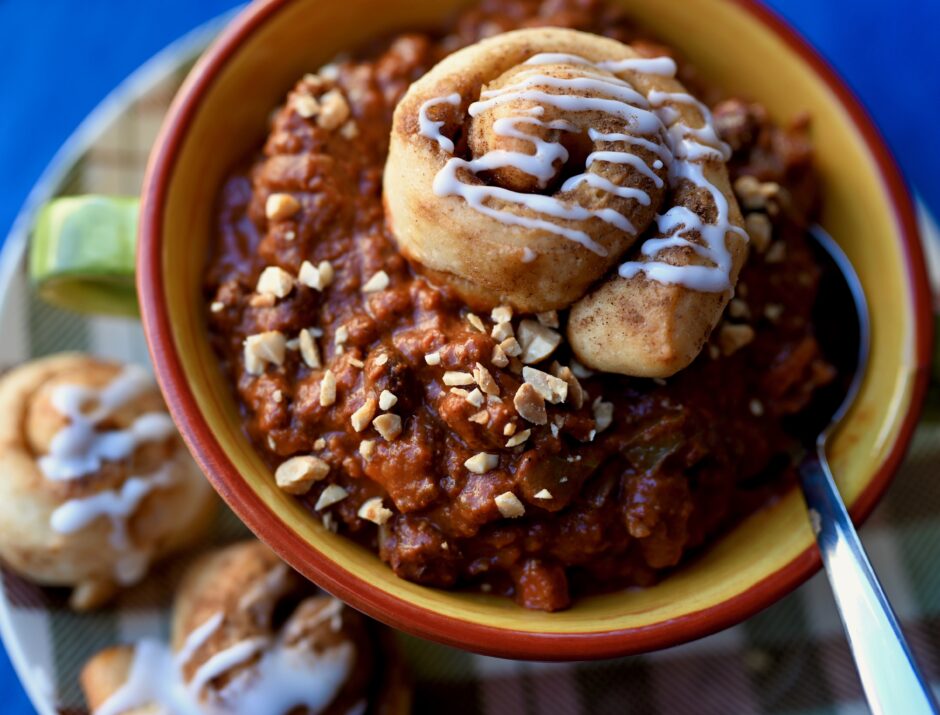 Ready to try something new and wonderful? This peanut butter chili topped with mini cinnamon rolls should definitely be on your menu this week. It's warm, comforting, spicy chili with the added richness of peanut butter, and a couple other somewhat unusual ingredients that turn plain old chili into something special. And topped with buttery cinnamon rolls? Well, let's just say you are going to have to try it to believe how good it is. Oh. Em. Gee.
I believe one of the people who originally thought it would be a good idea to eat cinnamon rolls with chili was a lunch lady from Iowa. Her name is Marietta Abarr, and she started this trend way back in 1944! Genius move, Marietta! I thought this peanut butter chili would be the perfect vehicle for mini cinnamon rolls, and according to everyones reaction to dinner last night, I was right! I'm pretty sure cinnamon rolls will be taking the place of cornbread as an accompaniment for our chili from here on out. They're a game changer!
I made up a batch of mini cinnamon rolls using Rhode's bread dough and I'll include the easy recipe at the end of this post. If you don't feel like making cinnamon rolls, you can certainly use store bought ones.
This peanut butter chili is easy to make in your slow cooker. You can make it with or without the Beyond beef. If you decide against it, you might want to add another can of beans or lentils to bulk it up. And, feel free to substitute the beans listed with whatever you have. Pinto beans would work just as well as black beans or kidney beans.
1 lb. Beyond beef
1 Tablespoon olive oil
2 large green peppers, cut into bite size pieces
1 large onion, coarsely chopped
2 large carrots, diced small
4 large cloves garlic, minced
30 oz. tomato sauce
30 oz. petite diced tomatoes
4 oz. can green chilies
2 jalapeno peppers, seeds and stems removed, chopped fine
1/2 cup creamy, organic peanut butter
2 Tablespoons soy sauce
1/4 c. ancho chili powder
3 Tablespoons smoked paprika
2 Tablespoons unsweetened cocoa powder
1/4 t. cinnamon
1 teaspoon onion powder
1 teaspoon garlic powder
1 teaspoon cumin
15 oz. can black beans, rinsed and drained well
15 oz. kidney beans, rinsed and drained well
Fry up the Beyond beef according to package directions. Cover. Once cool, set in the refrigerator. You'll be adding this when the chili is done.
Place olive oil in a skillet over medium heat. Add the green peppers, onions, and carrots. Cook just until tender and somewhat browned. Add garlic and cook an additional minute or so. Place these vegetables along with the rest of the ingredients (except for the Beyond meat) in the crock of a 7 quart slow cooker. Stir well. Cover, and cook on the LOW setting for 4 hours. At the end of the cooking time, add the Beyond meat. Stir to evenly combine. Taste and adjust seasonings if needed. Salt and pepper to taste. Add hot sauce for additional spiciness, if needed.
Ladle into bowls, and top with chopped peanuts and mini cinnamon rolls.
For the mini cinnamon rolls:
Yield (approximately 20 mini cinnamon rolls)
1 loaf Rhode's frozen bread dough, thawed according to package directions
4 to 6 Tablespoons melted butter (I used organic Earth Balance)
6 to 8 Tablespoons brown sugar
2 teaspoons cinnamon
pinch or two of salt
Once dough is thawed completely, cut in two pieces and roll them out on a well-floured surface, making two smallish rectangles of dough. Top each with some of the butter (so each piece is well coated but not drowning in butter.) Then sprinkle with brown sugar, cinnamon, and a tiny bit of salt. Roll each rectangle up starting with a long edge. Roll them as tightly as you can and then cut each log into approximately 10 pieces. Transfer to a large, parchment-lined baking sheet so the rolls are about 2 inches apart. Cover with buttered plastic wrap and allow to rise until doubled in size (this will take about an hour.) Once doubled in size, transfer to a 350 degree F. oven and bake for 20 to 25 minutes, or just until rolls are set and golden. Cool a bit and drizzle with a little glaze (optional.)
Serve on chili.
Enjoy!
~Melissa
You may enjoy these related posts: