Print Friendly Version
"You can never get a cup of tea large enough or a book long enough to suit me."  ~C.S. Lewis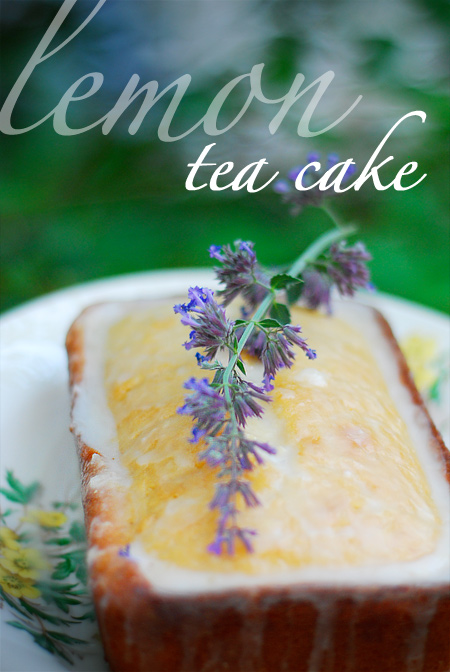 Lemon Tea Cake
Makes 2 – 8 inch tea loaves
Preheat oven to 35O degrees. Spray two 8×4 loaf pans with Baker's Joy.
2 sticks butter at room temperature
2 and 1/2 cups granulated sugar
4 extra large eggs at room temperature
1/3 cup freshly grated lemon zest
3 cups all purpose or cake flour
1/2 teaspoon baking powder
1/2 teaspoon baking soda
1 teaspoon salt
3/4 cup freshly squeezed lemon juice
3/4 cup whole milk at room temperature
1 and 1/2 teaspoons pure vanilla extract
Glaze:
2 cups powdered sugar
3 and 1/2 Tablsepoons freshly squeezed lemon juice
Cream the butter and 2 cups of the granulated sugar in the bowl of a Kitchen Aid mixer fitted with the paddle attachment. Mix on medium speed for about 5 minutes, adding lemon zest and eggs during mixing time. Mix until light and fluffy. Add 1/4 cup lemon juice, the milk and vanilla. Mix until just combined.
Combine flour, baking powder, baking soda, and salt in a separate bowl. Add to the batter. Mix until just combined. Divide batter evenly between loaf pans, smooth tops. Bake for 45 minutes to an hour, until toothpick comes clean.
Combine 1/2 cup granulated sugar with 1/2 cup lemon juice in a small saucepan until the sugar dissolves.
When the cake is done, allow to cool in pans for 10 minutes before transferring them to cooling racks set over a tray. Carefully poke holes in the tops of tea loaves with a fork (about 10 times per loaf.) Spoon the lemon simple syrup over the cakes. Allow cakes to cool completely.
For the glaze, combine powdered sugar and lemon juice in a bowl and mix with a wire whisk until smooth. Pour over the tea cakes allowing the glaze to drizzle down the sides.
Tea Pairing– a great tea pairing for this cake is Harney & Sons Rosepetal Tea, or Mrs. Kelly's Earl Blue Ceylon Tea (with lavender blossoms.)
Tip: The lemon 'simple syrup' recipe above is fabulous in iced tea! Simple syrups are commonly served in tearooms alongside iced tea instead of sugar cubes because iced tea will not dissolve uncooked sugar.
Enjoy!
~Melissa
You may enjoy these related posts: