Print Friendly Version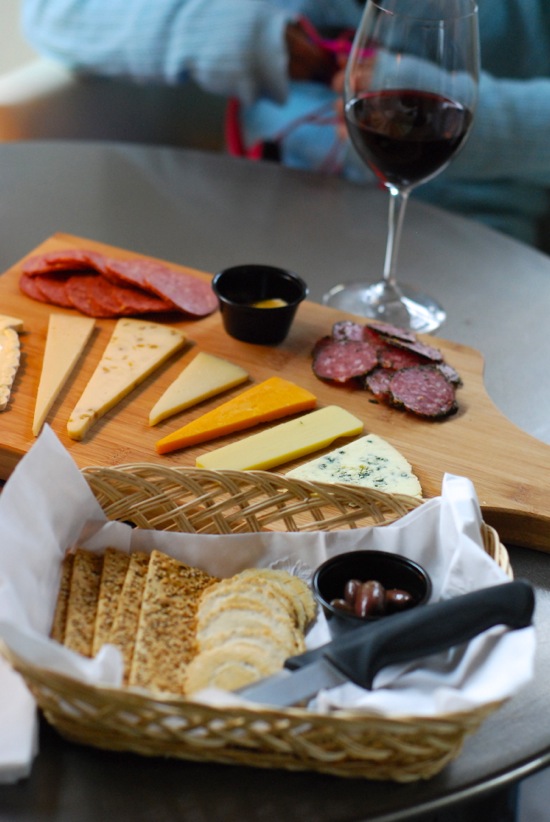 "The discovery of a new dish confers more happiness on humanity, than the discovery of a new star." ~Jean Anthelme Brillat-Savarin
I'm planning a wine and cheese tasting party for later this summer. This is such a fun and easy way to entertain. I'm by no means a cheese expert, but Jeff and I have tried quite a few different varieties and know what we like. While researching and deciding what cheeses to include on our cheese plate, I came across this impressive resource. It's a website called CheeseCupid. Loads of helpful information on cheese and wine pairing.
This website, along with other cheeses I've tried and read about have helped me compile my list. I think I have it narrowed down to these:
Buttermilk Blue Cheese by Roth Kase – made with the freshest raw milk from herds of predominantly Jersey cows, which is then homogenized, inoculated with a secret blend of cultures, hooped by hand, pierced, salted then cured for at least 2 months while being rotated regularly to insure a perfect cheese. You won't find a more delicious blue cheese.
Idiazabal – from the Basque country in Spain. During production, the wheels were traditionally smoked over beechwood, hawthorn, or cherry for 10 days, imparting a slight smoky quality that would add depth to the rich, nutty flavor of this sheep's milk cheese. Idiázabal has a firm texture, similar to Zamorano, Roncal, and Manchego, and pairs well with Navarra wines and other medium-bodied reds.
Taleggio is a semi-soft, washed-rind cheese from the Valtaleggio region in northern Italy, near Lombardy. It is characteristically aromatic yet mild in flavor and features tangy, meaty notes with a fruity finish. The texture of the cheese is moist-to-oozy with a very pleasant melt-in-your-mouth feel. The combination of the soft texture, pungent aroma, and buttery flavors has proven to be addictive especially when spread on fresh crusty bread. Taleggio pairs nicely with Italian Nebbiolo wines, as well as a wide range of reds and whites.
A soft style cheese distinguished by a simple, mild, fresh goats' milk flavor, the cheese is highly versatile and an excellent ingredient in many dishes as well as on its own. While chèvre continues to grow in popularity, maintains its reputation for quality through clean taste, freshness, and lower salt.
Chevre is one of the world's most dynamic cheeses that can support a menu from appetizer through deserts. Good with:
Arugala Salad with warm goat cheese and candied walnuts
Warm red garden fresh beets with goat cheese medallions
Crumbled chevre for specialty goat cheese pizza
Chevre marbled with cinnamon and cranberries
Manchego cheese is the most important and well-known sheep's milk cheese in Spain. Beautiful for grating, a perfect pairing with Spanish Tapas and olives! The shape of this cheese is very characteristic and defined, due to the traditional use of esparto grass molds which imprints a zigzag pattern along the side of the cheese. The small wooden boards used for pressing the cheese also imprints the typical wheat ear pattern on the top and bottom.
This rustic molds are used outside of La Mancha as well. Thus, there are other Spanish sheep's milk cheese with similar shape and markings, known commonly as "Manchego style" cheese.
Gruyere- so far I haven't met a gruyere I didn't like 🙂
Beemster Vlaskaas- Creamy with a hint of sweetness, Vlaskaas is a Gouda-like cheese made from a centuries-old recipe re-discovered in 2004. This award-winning Dutch cheese is enjoyed for everyday meals; in salads, sandwiches, with ripe fruit or served as a table cheese. Milk: Cow. Origin: Holland. Texture: Firm and creamy.
Brillat Savarin Triple Cream Brie Brillat Savarin, Petite is a cow's milk, triple-crème brie-style cheese from France. This lovely cheese is buttery, rich, creamy and decadent with a rare "natural rind" which is essentially a thin skin. Brillat Savarin, Petite is essentially the cheese equivalent of ice cream! Incredible on its own or served with a fruit jam on hearty Artisanal bread. Pair Brillat Savarin "natural rind" with Domaine Chandon Rosé or a Viognier.
We like mango chutney, honey, fruit preserves, quince paste and mostarda with our cheese plates. Making mostarda is quite easy, and it also makes an excellent gift. I'll include the recipes for quince paste and mostarda in a later post.
What are your favorite wine and cheese pairings?
~Melissa
You may enjoy these related posts: