Print Friendly Version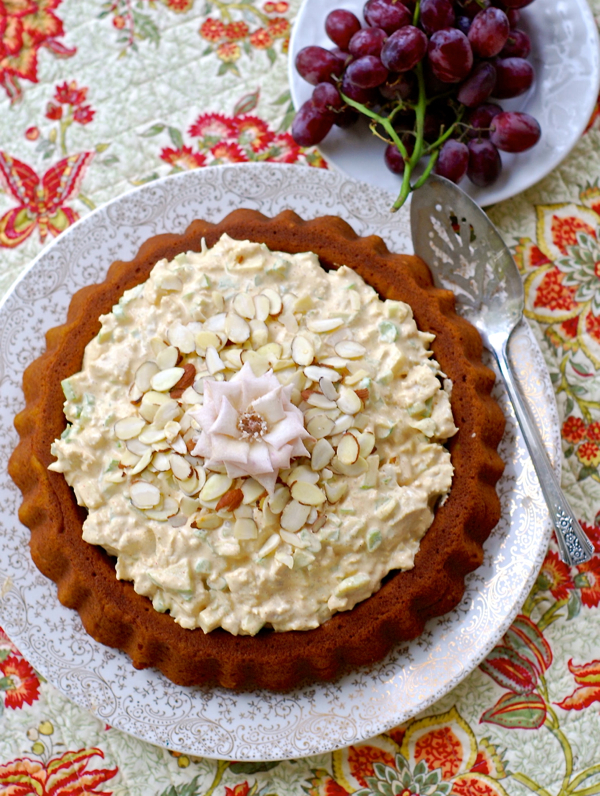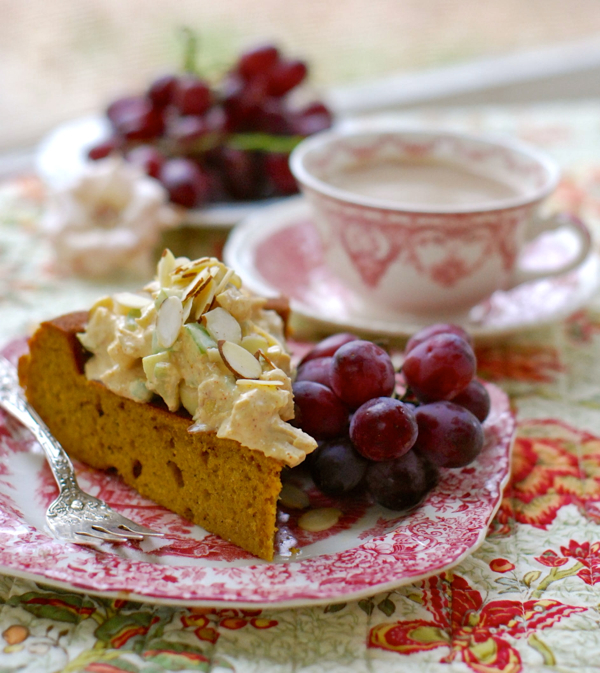 Happy November! We're definitely past the peak season of Autumn here in the Mississippi river valley. The leaves have turned from a vast array of gold, crimson, orange, purple and yellow to mostly brown. Many of the trees have shed all of their leaves. We're getting quite a mixture of cold, dreary days mixed in with warm sunny ones. I've gone outside these last few mornings to enjoy a cup of tea on my front porch and can smell the unmistakable scent of snow. I'm not sure what the weather forecast says about the arrival of Old Man Winter, but he's on his way. Time to snuggle into the winter/Holiday season.
Here's a wonderful dish to make when you're going to host a lunch. It's perfect with a hearty, black tea and a pile of fresh grapes!
Make the chicken salad first so it can chill for a bit while you bake the tiara bread.
Note: *A "Tiara" cake pan is best for this recipe. It's almost the same capacity as a 9 inch, round cake pan. What's special about a Tiara pan is that it creates an indentation on top of the bread/cake so you can fill it with a topping. Usually these are used for cakes, but I decided to go with a savory, tea sandwich combination. I love using my Tiara pan for tea sandwiches! If you don't have a Tiara pan, simply make your pumpkin bread in a round, 9 inch cake pan, or a loaf pan. This dish will still taste great.
for the curried chicken salad:
2 large boneless skinless chicken breasts, cooked and chilled
1 cup real mayonnaise
2 teaspoons fresh lemon juice
1 Tablespoon lite soy sauce or ponzu sauce
2 teaspoons curry powder
1 teaspoon smoked paprika
1 Tablespoon ginger jam OR 1 Tablespoon crystallized, candied ginger, chopped
1 cup finely diced celery
1/2 cup chopped Granny Smith apple (or other tart apple)
1/2 cup slivered almonds, for topping/garnish
After chicken is cooked and chilled, cut it into little cubes (1/4 inch.) Place chicken cubes, mayonnaise, lemon juice, soy/ponzu, curry, paprika, ginger jam, celery and apple in a large mixing bowl. Mix until everything is incorporated. Cover and place in refrigerator until your pumpkin tiara bread has baked and cooled completely.
for the pumpkin tiara bread:
*special equipment ~ a Tiara Cake Pan (or just a 9 inch, round cake pan.)
Yield: 1 Tiara loaf + 12 muffins
~ Heat oven to 350 degrees F. ~
16 oz. pure pumpkin puree
1 and 2/3 cups sugar
2/3 cup vegetable oil
2 teaspoons vanilla
4 large eggs, lightly beaten
3 cups all-purpose flour
2 teaspoons baking powder
2 teaspoons cinnamon
1/2 teaspoon ground cloves
1/2 teaspoon nutmeg
Spray Tiara pan (or cake pan/loaf pan) and 12 muffin tins with non-stick cooking spray. Mix pumpkin, sugar, oil, vanilla and eggs in a large bowl. Stir in remaining ingredients. Pour into prepared pans. Bake 20 minutes for muffins and 20-25 minutes for Tiara bread. You'll know it's done when a wooden skewer inserted into the center of the bread comes clean. Cool for 10 minutes. Remove from pans and transfer to cooling racks to cool completely.
Once cooled, place tiara bread on a pretty cake plate or platter. Fill the center with the curried chicken salad. Top with 1/2 cup slivered almonds. Cut into wedges and serve with fresh grapes. This will serve 8 people as a main course for lunch, or 12 smaller portions as part of a tea sandwich tray.
Enjoy!
~Melissa
You may enjoy these related posts: