Print Friendly Version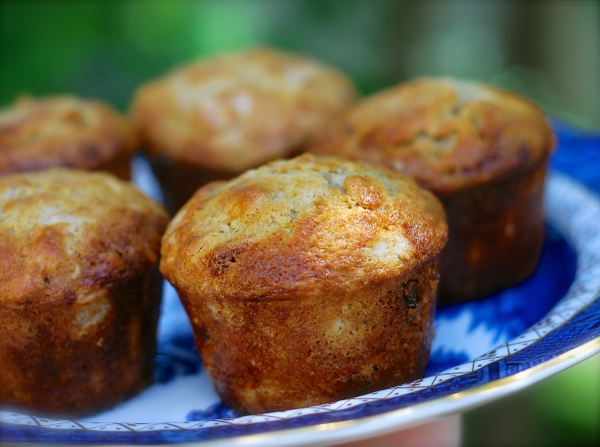 Here's an amazing, tried and true recipe. I've made dozens and dozens of these and they always come out wonderful. What's really great about this recipe is that the batter will yield 50 to 60 muffins! You can bake them all up right away if you need a huge batch of muffins for a church picnic or big gathering. What I usually do is cover the batter tightly in a food container and mark it with the date the batter was made, and then mark it with the date the batter will expire (six weeks out.) Then, whenever I want to make a fresh batch of muffins, the dough is ready! This is so convenient for breakfast, brunch, and after school snacks! In the summer time I like to serve these muffins with big salads or cups of soup for a light lunch. Everyone loves them!
Yield: 50 to 60 muffins
~ preheat oven to 400 degrees F. ~
15 oz. box of raisin bran cereal (9 cups)
3 cups sugar
5 cups all purpose flour
6 teaspoons baking soda
2 teaspoons salt
2 teaspoons cinnamon
4 large eggs, lightly beaten
1 cup vegetable oil
1 quart buttermilk
2 teaspoons pure vanilla extract
In a large food container, combine: the dry cereal, sugar, flour, soda, salt, and cinnamon. Mix well.
In a large mixing bowl, combine: eggs, oil, buttermilk, and vanilla. Whisk to mix.
Add wet ingredients to dry ingredients and mix just until everything is evenly moist and combined.
Allow batter to rest on the counter, uncovered, for 15 minutes.
Spray the desired amount of muffin tin cups with Baker's Joy, or grease them very well with cooking oil. Fill tins 3/4 full with batter. Bake in preheated oven for 19 to 23 minutes, or just until a toothpick inserted into the center of the muffins comes out with a few moist crumbs on it and the muffins are golden brown.
Cool muffins in pan for 10 minutes, and then remove them from pan and transfer them to a wire rack to cool completely before covering. Enjoy warm or at room temperature. Cooked muffins will keep for 5 days when covered tightly and stored in a cool, dry place.
Cover the rest of the uncooked batter tightly with food container lid. Mark the date on the top of the container, and then count 6 weeks out and mark that date on the container too. Store in fridge until you're ready to make more muffins!
Discard any batter you don't use within 6 weeks.
Enjoy!
~ Melissa
You may enjoy these related posts: